The COVID-19 pandemic has been the catalyst for record levels of funding in UK science and technology. This is generating demand for office and lab space, especially in hotspots such as Oxford and Cambridge, and creating opportunities for landlords able to provide flexible products that support rapidly growing science occupiers.
Download the full Thames Valley and South East Office Market Report 2021
Funding boom
The response of the UK's life sciences, medical and technology sectors to the COVID-19 pandemic has been world leading. High profile achievements include the development of a vaccine by the University of Oxford and AstraZeneca; and the large-scale genome sequencing conducted by the Cambridge-led COVID-19 Genomics UK (COG-UK) Consortium, which was responsible for identifying the Kent variant.
With life sciences thrust into the spotlight, 2020 was a stellar year for fundraising in the sector. The UK BioIndustry Association (BIA) reports that UK-based biotechnology companies raised a record £2.8bn last year through venture capital financings, Initial Public Offerings (IPOs) and other public financings.

Fundraising activity has only accelerated in the first half of 2021. Many of the largest recent funding rounds have been secured by companies in the South East of England, with Oxford being a notable hotspot.
Oxfordshire-based companies that have received funding include Oxford Nanopore, a specialist in DNA and RNA sequencing technology, which raised £162.8m in three tranches during 2020, with a further £195m announced in May 2021. In addition, Immunocore, a developer of novel biological drugs, closed $312.1m (c. £227m) of financing in January 2021; while Vaccitech, which develops vaccines and immunotherapies, raised $168m (c. £120m) in March 2021.
Increased fundraising has a direct impact on property demand. Funding rounds, rather than lease events, are the key trigger of property decisions for many science occupiers. Each tranche of financing is likely to generate new space requirements, by supporting expanded research programmes and accelerating company growth.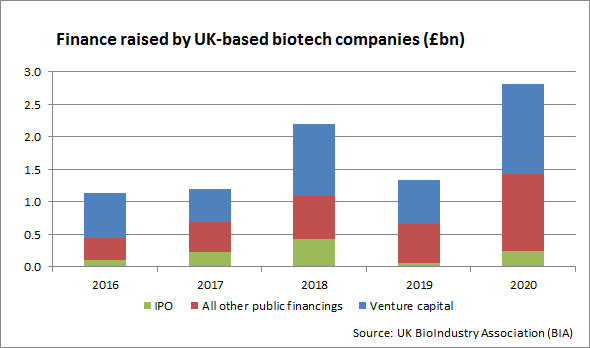 Science-driven demand
Markets driven by science and technology demand, most notably Oxford and Cambridge, have seen robust levels of office and lab take-up since the start of the pandemic. In the 12 months to Q1 2021, Oxford had the strongest take-up relative to its long-term average of any South East market.
Science and technology occupiers accounted for more than 70% of take-up in Oxford in this period, and over 60% in Cambridge. While demand in Cambridge was driven primarily by software and information technology companies, the Oxford market has been dominated by the life sciences sector. Notable deals include lettings to the drug discovery companies Evotec and Exscientia; the biotechnology company Oxford Biodynamics; and the gene and cell therapy developer Oxford BioMedica.
The strength of science and technology demand is also fuelling high levels of development activity in Oxford and Cambridge, including speculative construction. Growing locations catering to science occupiers' demand include Oxford Science Park, Oxford Business Park, Milton Park, Harwell Campus, Cambridge Science Park and Cambridge Biomedical Campus.

Building 3500, Oxford Business Park has been comprehensively refurbished to provide a mix of Cat A office and lab-enabled space. The 19,000 sq ft building is currently under offer to a confidential occupier.
Flexibility is key
Flexibility is key to satisfying demand from science and technology occupiers, as their space requirements will change as they move through different phases of their life cycle; from start-up or spin-out, to scale-up and growth, through to maturity or exit.
Early stage enterprises are likely to require relatively small spaces on short flexible leases, which may be provided by incubator or accelerator hubs. Larger laboratories will be needed by companies as they scale-up, but there is a widely acknowledged shortage of space catering to mid-sized companies that have outgrown shared spaces, but which may not yet be ready to occupy their own buildings.
Rapidly growing young companies are unlikely to commit to long-term leases, so even though space may have to cater to very specialised requirements in the immediate term, it also needs to be adaptable to the demands of future occupiers.
Flexibility is also required as occupiers have widely varied laboratory needs. As long as the key features that enable space to be adaptable for lab use are present, such as increased floor heights, reinforced floor slabs, robust power supplies and large ventilation and extraction capacities, the question for landlords is how far they are prepared to go along the 'fitted' spectrum.
Many landlords have produced 'lab enabled' accommodation which provides a base level specification which the tenant can adapt to suit their requirements. However, with many science occupiers having urgent needs to take occupation, serious consideration is being given to fitting out these spaces as generic CL2 labs and then allowing the tenant to modify as required. The smaller the space (sub-10,000 sq ft), the more likely it is that the tenant can work with a generic solution.
With demand contracting in some other property sectors, there is a clear opportunity to repurpose excess space for science occupiers. Buildings with generous floor heights such as retail warehouse units may be most easily converted for laboratory use.
Where's next?
While Oxford and Cambridge are the obvious hotspots for science and technology, increased lab and office space will also be needed in other locations to cater to the rising demand. Growth hotspots are likely to include towns within the academic 'golden triangle' whose corners are formed by universities in Oxford, Cambridge and London.
An emerging science location within the golden triangle is Stevenage. The town is home to Stevenage Bioscience Catalyst, which hosts GSK's UK R&D hub alongside incubator and accelerator space that supports more than 40 smaller companies with a primary focus on cell and gene technologies. Since it opened in 2012, companies based at the campus have raised more than £1.8bn in funding.
Future growth locations elsewhere in the South East may include towns and cities where the science and technology ecosystem is supported by research-intensive universities, with spin-outs and start-ups located on university-owned science parks. Key examples include the Thames Valley Science Park in Reading; the Surrey Research Park in Guildford; and the University of Southampton Science Park.
Investors active
Nonetheless, property investors looking to take advantage of the life sciences sector's strong growth prospects are still heavily focused on Oxford and Cambridge. These two markets have seen a spate of science park transactions in the first half of 2021.
Israeli-owned Brockton Everlast has been notably active, completing two separate deals at Cambridge Science Park during H1. These included the purchase of 214-240 Cambridge Science Park for £98.77m. Reflecting intense competition for the asset, the sale price was more than 50% higher than the guide price of £62.5m.
The Dutch investor Kadans Science Partner has also been prominent, purchasing The Sherard Building at Oxford Science Park; and The Science Quadrant at Abingdon Science Park, which comprises four blocks of office and laboratory accommodation.
Kadans has been on an acquisition spree in recent years, purchasing the B900 Building at Babraham Research Campus, Cambridge; and Sycamore House, a former industrial and warehouse building adjacent to Stevenage Bioscience Catalyst, which it is redeveloping into offices and laboratories. Kadans was purchased by AXA IM in late 2020, demonstrating the strong institutional appetite for life sciences property.
The flurry of deals in H1 2021 also included the acquisition of Melbourn Science Park, Cambridge by Bruntwood SciTech, a joint venture between Bruntwood and Legal & General Capital. In addition, Canadian investor Oxford Properties purchased 310 Cambridge Science Park for £45m in an off-market deal. Oxford has said that it intends to deploy £1.2bn into European life sciences over the next five years, with the UK being its initial focus.

The appliance of science
The strong recent demand for science park assets underlines investor confidence that science and technology will be a growth area for the UK property market in the coming years. The life sciences sector, in particular, is likely to see accelerated growth in the post-pandemic era.
There are huge opportunities for investors, developers and landlords seeking to target the sector. However, life sciences businesses present unique challenges, due to the specialised nature of their space requirements and the potential for rapid changes in demand to be triggered by new rounds of funding or technological breakthroughs. The most successful landlords will be those able to offer flexible products that can be adapted to a wide variety of occupier needs, so that growing life sciences companies are supported at every stage of their life cycles.
Download the full Thames Valley and South East Office Market Report 2021
Get in touch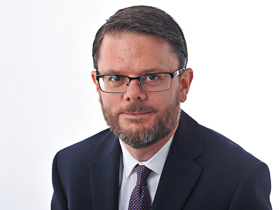 Matthew Colbourne
Associate Director - Research
Kevin Wood
Head of Office - Oxford
REGISTER FOR UPDATES
Get the latest insight, event invites and commercial properties by email