Numerous projects, either underway or in planning, will bring life to neglected locations by delivering new homes and much-needed employment space. There is a particularly acute need for this in locations such as Bath, where a lack of modern office development in recent years has limited the space available to start-ups and small businesses.
Several projects will also play major roles in the rebalancing of local economies, as traditional industries decline and the creative and digital sectors grow in importance. Swansea, for example, is receiving significant public sector investment in its digital industries. Cheltenham is seeking to build on its existing strengths to become a national hub for cyber security.
Well-planned investment in places and people will enhance the ability of the region's towns and cities to adapt to future economic, technological and demographic challenges. The regeneration 'rulebook' has also changed on the back of structural changes in shopping patterns. Where retail was once an important catalyst of town centre regeneration, employment uses and housing are now key given the challenges facing high streets up and down the UK.
Bath
Bath and North East Somerset Council's flagship regeneration project is Bath Quays, which is part of the wider Bath City Riverside Enterprise Zone covering 98 ha of land along the River Avon.
Bath Quays includes two sites that will be connected by a new pedestrian and cycle bridge. The larger site, Bath Quays North, is described as the most significant development opportunity in the city for a generation. Outline planning permission has been granted for a mixed-use development including more than 400,000 sq ft of new floor space across seven buildings, including approximately 215,000 sq ft of grade A offices.
Across the river is Bath Quays South, where enabling works have begun for the construction of a 45,000 sq ft grade A office building. This will be the first newly built office building in Bath for more than 25 years.
Artist's impression of Bath Quays South: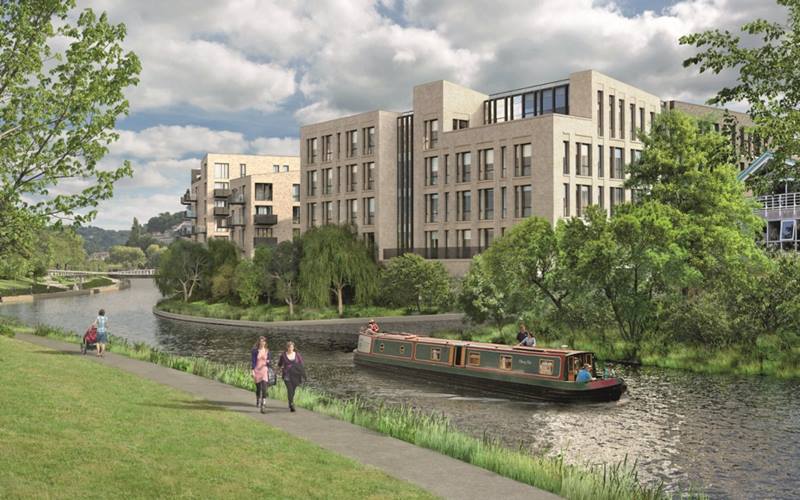 Bristol
The Bristol Temple Quarter enterprise zone is the city's most important regeneration area. It covers approximately 70 ha around Temple Meads station, and the ambition is that 11,000 new homes and 22,000 new jobs will be created by 2042.
Key projects within the enterprise zone include Temple Quarter Enterprise Campus, a new world leading campus for the University of Bristol dedicated to digital, business and social innovation. An adjacent site at Temple Island was previously earmarked for a new 12,000 seat arena, but the council has scrapped these plans in favour of a mixed-use scheme to be developed in partnership with Legal & General.
Bristol City Council is also considering options for the regeneration of the Western Harbour area, which has up to 20 ha of developable land with the potential for 3,500 homes.
Other important, private sector-led regeneration projects within Bristol are the Finzels Reach and Soapworks mixed-use developments.
Artist's impression of the Temple Quarter Enterprise Campus, Bristol. Image created by Feilden Clegg Bradley Studios for the University of Bristol: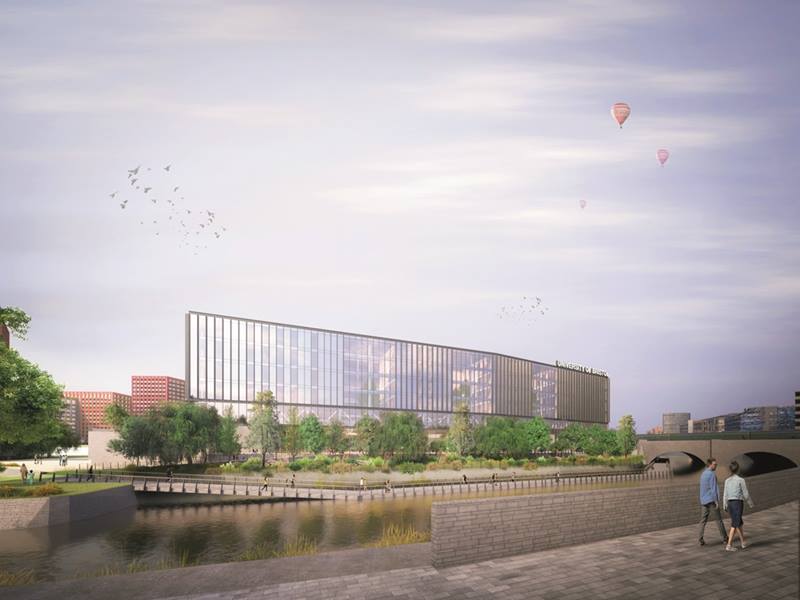 Cardiff
Cardiff has a track record as a regeneration hotspot, with the transformation of the Cardiff Bay area, which began in the late 1980s, being widely regarded as one of the UK's most successful regeneration projects. Cardiff Bay continues to see new development.
A more recent focus for regeneration is Central Square where a six-phase masterplan is being delivered by the developer Rightacres, working in partnership with the city council. When completed, this will see the construction of close to one million sq ft of mixed-use space.
The next potential game-changer is Cardiff Embankment, covering over 15 ha of land owned by a combination of the council and the developer Vastint. Work is progressing on a masterplan, and it is envisioned that it will eventually be the location of a new mixed-use urban village including up to 2,500 new homes.
Artist's impression of Central Square, Cardiff: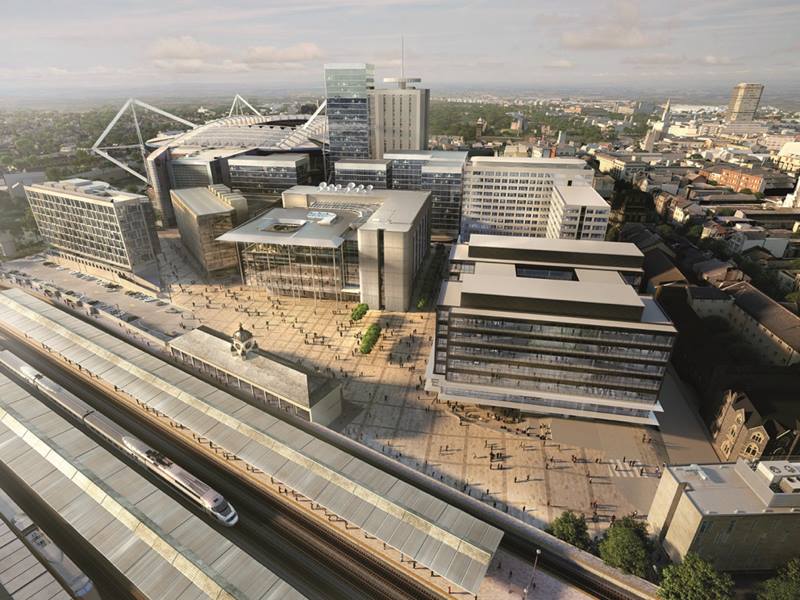 Cheltenham
Cheltenham Borough Council has recently acquired 45 ha of land near GCHQ, which is earmarked for the Cyber Central business park. Building on the town's existing expertise in cyber security, this ambitious project aims to create a nationally important hub for cyber businesses, technology, research and skills.
The scheme is part of a wider 132 ha plan for West Cheltenham Garden Village, which would also see the delivery of approximately 3,000 new homes.
Exeter
Work has recently begun on the regeneration of the Exeter Bus Station site, with the council funding the construction of a brand new bus station and the state-of-the-art St Sidwell's Point leisure complex. The council's vision for the wider area around the bus station includes retail units, although these will require private sector investment.
Another priority for the council is the modernisation of South Street. Proposals for this area would create a more attractive link between the quay and the city centre, putting a greater emphasis on pedestrian and cycle access.
Swansea
Work has begun on phase one of Swansea Central, which will include the development of a 3,500 seater arena and a 'digital square', alongside new homes and commercial units. Phase two, known as Swansea Central North, will be a retail and leisure-led scheme linking the city centre with the new arena and the waterfront.
A project is also underway to transform The Kingsway into a city park with new public areas and green spaces. Plans for the future regeneration of this area also include a scheme to turn the former Oceana nightclub at 71 & 72 The Kingsway into a 'digital village' with around 100,000 sq ft of tech-focused flexible office space.
Elements of The Kingsway and Swansea Central schemes will form part of the Swansea City and Waterfront Digital District, which is being part-funded by the Swansea Bay City Deal. This is providing £1.3bn of investment to 11 major projects across the wider Swansea Bay City Region, with the aim of generating nearly 10,000 new high-quality jobs.
Artist's impression of Swansea Arena: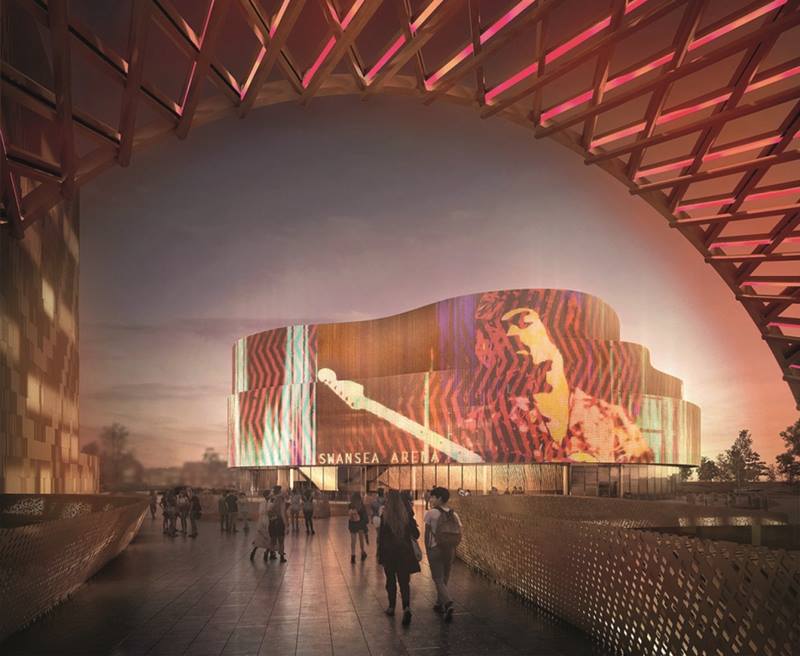 Swindon
The borough council's former regeneration partner, Forward Swindon Ltd, was recently wound-up, after being merged with the council's in-house team. The council is now seeking to push forward with the much-delayed mixed-use regeneration of Kimmerfields, with the insurance company Zurich planning to move into new offices at this site by 2022.
A new impetus for regeneration has also come from the launch of the Swindon Heritage Action Zone (HAZ). The HAZ initiative will concentrate on the revitalisation of buildings in the town's historic Railway Village. These include the old GWR Carriage Works, which is being transformed into a business incubation hub for start-ups and small businesses. The first phase of its renovation, delivering the Workshed co-working space, was completed in 2018. Phase two will see the completion of additional work and educational spaces.
Plymouth
The council is coordinating a number of projects set for completion in 2020, to coincide with the 400th anniversary commemorations of the Mayflower sailing from Plymouth to America. These include The Box, a museum and gallery complex replacing the now-closed Plymouth City Museum and Art Gallery. Also nearing completion is British Land's Drake Circus Leisure development, on the site of the site of the former Bretonside bus station.
Urban Splash's mixed-use redevelopment of Royal William Yard remains the most high-profile regeneration project in Plymouth. A number of other waterside locations are also undergoing regeneration, including the former Millbay docks area and Oceansgate in Devonport, which is being developed as a hub for marine industries.
REGISTER FOR UPDATES
Get the latest insight, event invites and commercial properties by email