Regeneration hotspots include, but are not restricted to, the 38 opportunity areas identified by the London Plan. These alone are estimated to have the capacity to support 575,000 new jobs and 303,000 additional homes.

London's megaprojects

London's current regeneration projects include schemes of widely varying scale, with diverse property mixes and differing degrees of private/public sector involvement.

At the larger end of the scale are the regeneration areas covered by London's two Mayoral Development Corporations; the London Legacy Development Corporation (LLDC) and Old Oak and Park Royal Development Corporation (OPDC).

The LLDC is charged with the delivery of the physical legacy of the 2012 Olympics, including the creation of Queen Elizabeth Olympic Park in Stratford. The construction of new homes on the park is ongoing, while a prominent part of upcoming plans is East Bank, a new cultural and educational district.
The OPDC area covers 650 hectares in west London, with a core development area of 100 hectares. It is strategically important as it includes the only location where the Elizabeth Line and HS2 rail projects will meet. A total of 25,500 new homes and 65,000 new jobs are envisaged to be delivered in the area over 30 years. The OPDC's plans will transform an area that is currently home mainly to industrial sites and brownfield land.

Aiming to create a new mixed use district in London is Meridian Water in Enfield, which is the subject of another of London's largest development schemes being led by the Council. LSH is advising Enfield Council on this huge project, which is expected to see the creation of 10,000 new homes and 6,000 jobs over 25 years.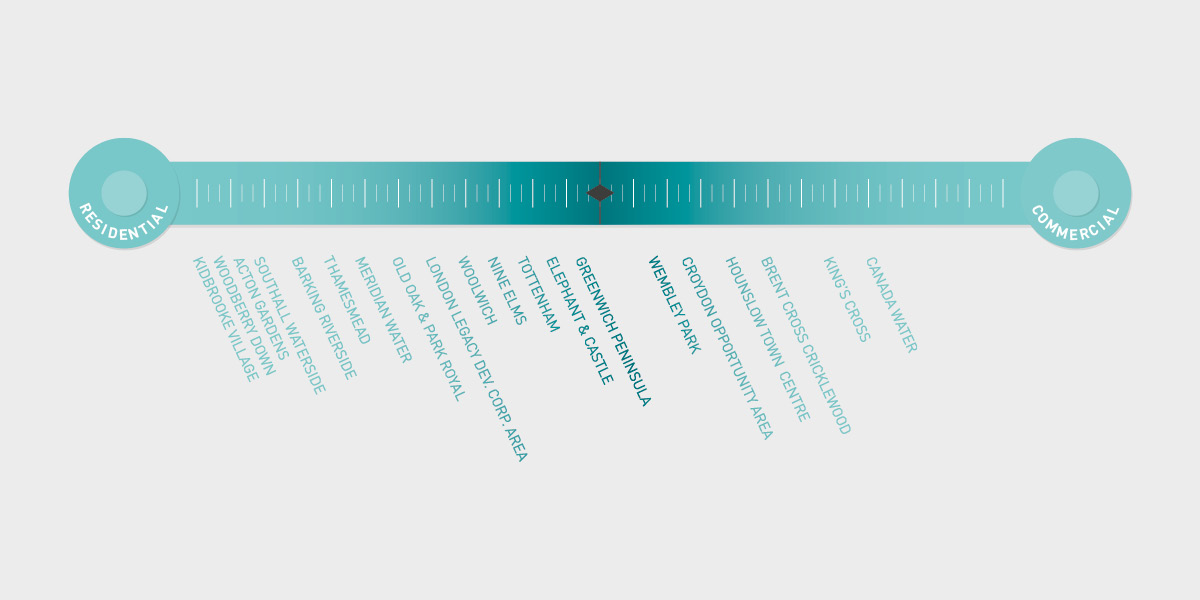 Regeneration hotspots: Property mix
The estates we're in

While some projects include wide areas that will see their uses being transformed, other high profile regeneration schemes involve the overhaul of specific housing estates. Many of these are estates built in the 1960-70s that are now considered to have been architectural failures.

Examples include Woodberry Down in Hackney; Acton Gardens, the former South Acton Estate in Ealing; Elephant Park, the old Heygate Estate in Southwark; and Kidbrooke Village, the former Ferrier Estate in Greenwich.

Estate regeneration projects are generally delivered by private commercial developers, working in partnership with borough councils. However, they can be politically contentious, attracting accusations that developers have used the guise of regeneration to deliver commercially lucrative projects prioritising high-end apartments over social or affordable housing.

Concerns that estate regeneration programmes are leading to the loss of social housing, and failing to meet the accommodation needs of existing residents, have put proposed projects under increased scrutiny from the Mayor of London. New rules were introduced in 2018 requiring that estate regeneration projects seeking mayoral funding must be supported by residents through a ballot.

Market-led regeneration

Borough councils and the Mayor of London have crucial roles in setting the framework for regeneration activity, but the private sector provides most of the machinery that enables it.

Regeneration projects are thus only likely to get off the ground if they can be made to be commercially viable for private developers. Indeed, a number of London's current regeneration hotspots are locations where activity has been largely market-driven and not entirely centrally-planned.

Croydon, for example, is regarded as one of London's most active growth areas. Activity is spread across loosely-connected commercially-driven projects, such as Schroders and Stanhope's Ruskin Square; and Westfield and Hammerson's planned redevelopment of the Whitgift shopping centre.

London has other private sector-led regeneration schemes in the pipeline, where developers have assembled connected sites suitable for large scale redevelopment. One of the most ambitious is British Land's masterplan for a new town centre in Canada Water.



Transport drives development

Another of London's current regeneration hotspots is Woolwich, which has seen a large amount of private sector residential and commercial development encouraged by the belief that the arrival of the Elizabeth Line will boost property values.

This underlines the importance that major transport infrastructure projects can have in unlocking new locations for development. The opening of the Elizabeth Line is also a crucial factor in the regeneration of areas such as Southall and Old Oak and Park Royal. Likewise, the Northern Line extension, due to open in 2020, is an integral part of the regeneration of Nine Elms and Battersea.

Future transport infrastructure projects are likely to have a major role in creating London's next wave of regeneration hotspots. The proposed Bakerloo line extension, for example, has the potential to spur new development in areas including Old Kent Road, New Cross Gate and Lewisham.

A key driver of future activity could potentially be Crossrail 2, the proposed route of which runs from north east to south west London. It would pass through several locations already earmarked for regeneration, such as Tottenham Hale and Northumberland Park. These all fall within the Upper Lee Valley Opportunity Area – a large swathe of north London with a significant volume of industrial land that could be released for higher density mixed-use development.

A further key transport project is the proposed West London Orbital overground extension, which would run from West Hampstead and Hendon to Hounslow. This could unlock new development in a corridor that includes Brent Cross, Neasden, Harlesden, Old Oak Common, Acton and Brentford.

The role of retail

Several of London's most important regeneration projects involve the renewal of outdated town centres. These include town centre regeneration programmes in Hounslow and Elephant and Castle, the latter of which will see the replacement of the existing shopping centre. Similarly, plans for the regeneration of Brent Cross include the redevelopment and expansion of the current shopping centre.

Town centre projects will need to give significant thought to the future role of retail space within regenerated areas. With many existing high streets losing retailers, newly created town centres will have to ensure that they are vibrant places able to attract a wide variety of commercial and leisure uses.

Local and independent retailers are likely to form an increased share of the occupier mix and landlords in regenerated town centres will thus need to offer spaces that suit such occupiers. Retail spaces should be affordable and adaptable, with flexible lease terms.

The recently opened Coal Drops Yard in King's Cross provides an example of a re-imagined retail space within a regenerated location. While its high-end boutique-style shopping may not be transferable to everywhere, it offers a model of a carefully curated experiential retail space that future regeneration projects may seek to replicate.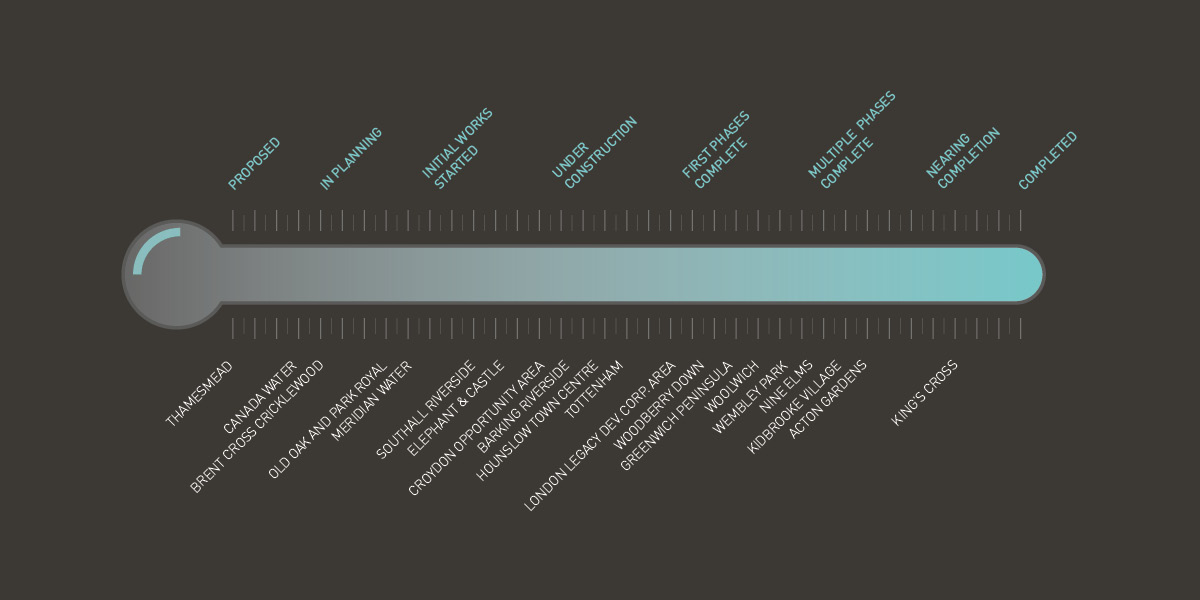 Regeneration hotspots: Project progress

The regeneration recipe

Alongside retail and leisure spaces, other essential ingredients in the regeneration mix include community facilities such as education, healthcare and open spaces, as well as transport infrastructure.

New infrastructure is vitally important for large projects on brownfield areas isolated from existing amenities. An example is Barking Riverside, one of London's largest regeneration areas where development started in 2010. To date, it has attracted criticism due to a lack of retail or leisure provision, and poor transport connections. However, a new train station is now expected to be completed in 2021 and commercial and community spaces will be included in later development phases.

The right mix of uses will help to bring life to a location. Regeneration projects can fall into the trap of feeling soulless, with rows of identical houses or apartment blocks. Well thought-out urban design, incorporating varied architecture and flexible spaces able to host a range of activities, will help to create locations where people want to live, work and play.

However, large-scale regeneration projects should never focus purely on the built environment. A holistic approach is crucial, seeking to provide communities with economic, social and cultural benefits alongside architectural improvements.

The construction phase is only one part of the lifecycle of a regeneration project. Successful regeneration begins with local community engagement. Collaboration and communication should continue throughout the whole process, so that solutions are tailored to individual communities and not simply imposed on them.

Regeneration does not end when buildings are completed. The regenerative impact of new development needs to be fostered and prolonged through estate management. It will take time for neighbourhoods to develop their identities, and the benefits of regeneration need to be carefully cultivated over the decades that follow construction.
Political and economic challenges
Delivering a comprehensive regeneration programme is challenging and can take many years to reach fruition. Given that projects have typical timeframes of 20-30 years, they will be subject to a shifting political and economic backdrop. In a strong property market, rising property values will help to subsidise the affordable housing required by regeneration schemes. However, it may be harder to make the numbers work when the market hits a downturn.
Previous waves of regeneration and placemaking in London have had mixed results. Development in the 1960-70s created landmarks such as the Grade II-listed Barbican complex, but also delivered housing estates that are now among the city's more deprived areas.
There is no guarantee that the current wave of regeneration schemes will all be considered to have been successful by future generations. However, lessons should have been learnt from previous mistakes. It is crucial that communities are fully engaged and that private and public sector stakeholders work together symbiotically to create neighbourhoods that can thrive over the long term.
London is a dynamic city whose urban landscape has always evolved. The city will continue to reinvent itself, and current regeneration activity will play an important role in shaping its future.
Get in touch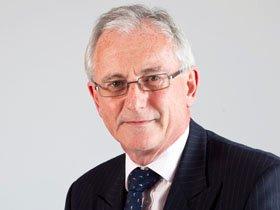 Stephen Armitage
Director - Development Consultancy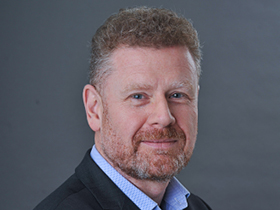 Steve Norris
National Head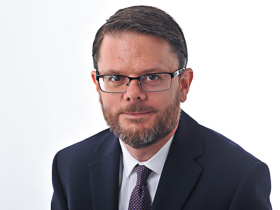 Matthew Colbourne
Associate Director - Research
REGISTER FOR UPDATES
Get the latest insight, event invites and commercial properties by email