Growing evidence suggests that post-pandemic working patterns can support the reversal of the 'Brain Drain' of young graduates from regional cities to London. If the UK's key regional cities are able to attract and retain more talent, their appeal as office locations will be enhanced.
Reversing the Brain Drain
Concerns that the UK is suffering from a Brain Drain have been repeatedly raised in recent decades. Research bodies and think tanks have regularly highlighted the trend for talented graduates to move to London from other cities to take employment, thus depleting the skills base in the cities where they either grew up or studied.
But this is starting to change. Some UK regional cities have become more successful in retaining graduates and attracting young workers in recent years. This trend could be accelerated by post-pandemic working practices, and aided by the relative affordability of housing in regional cities when compared with London.
Retaining graduates
The Brain Drain concept was set out by a 2016 report by the Centre for Cities, which found that nearly a quarter of graduates moving cities within six months of graduating relocated to London. The report showed that the capital had a particularly strong appeal for high achievers, attracting a large share of new graduates with first or upper second class degrees from Russell Group universities.
While cities outside London do retain graduates, the Centre for Cities report found that many of these are people who already lived locally, and that most UK cities do not retain the majority of students who move to them to study. Graduate retention rates vary between cities, with Manchester, Glasgow and Birmingham having the highest levels outside London, according to the Higher Education Statistics Agency (HESA). However, even in these cities, over half of students move elsewhere within 15 months of graduating.
More encouragingly, some evidence is emerging that graduate retention rates are improving in the most popular regional cities, and these locations are also attracting increased numbers of young people who studied in other cities.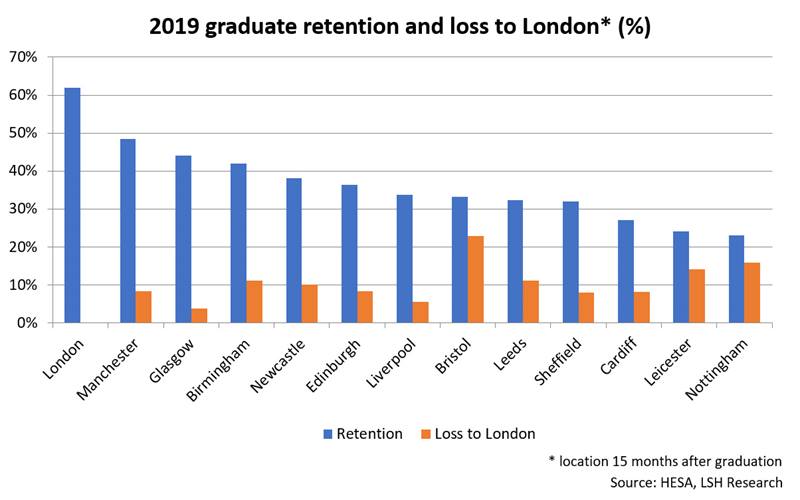 Migration from London
An analysis of recent internal migration patterns shows that London continues to attract young people. London gained a net 29,000 people in the 20-29 age range from the rest of England and Wales during the year to June 2020. Only three other regions recorded positive inflows in this age bracket, albeit on a much smaller scale.
However, this was the lowest net migration figure into London for people in their 20s since the Office for National Statistics began collecting data in 2012. While this can be partly attributed to the impact of the pandemic, longer term trends are also evident in the migration data which suggest a waning of London's appeal relative the UK's other major cities.
London consistently has net population outflows in all other age groups apart from 20-29 year olds. These outflows have been growing, with net internal migration out of London nearly doubling between 2012 and 2020, driven largely by people in their 30s and 40s. Older professionals have been priced out of London by high house prices, and these may also be having a growing impact on graduates' location decisions.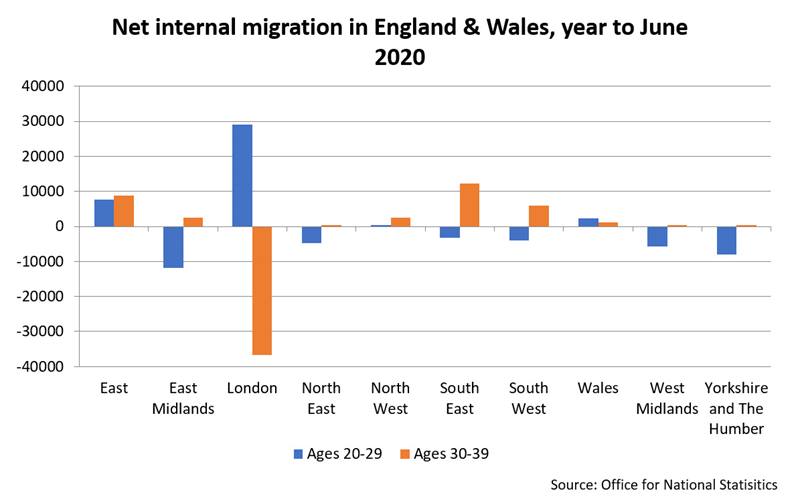 House price pressures
Graduates face an uphill task to get on the housing ladder anywhere, but the challenge is particularly acute in London. According to the Zoopla House Price Index, the average London house price was £495,200 in September 2021; more than double the national average. The affordability gap between London and the rest of the UK has widened over the last decade, with average prices in the capital rising by 67% compared with 47% for the UK as a whole.
HESA data indicates that graduate salaries for those in full time employment most commonly fall in the £24,000-£26,999 range. The average London house price is thus about 20 times a typical graduate salary, and most London-based graduates have many years of renting and saving ahead of them before they have enough for even the minimum deposit on a small home.
However, house price trends since the start of the pandemic have provided signs of weakening demand for London housing. Between March 2020 and September 2021, average house price growth in London was amongst the lowest of any major UK city, at 3.8%. Conversely, many Northern and Midlands cities have recorded double-digit growth, with Liverpool and Manchester leading the way.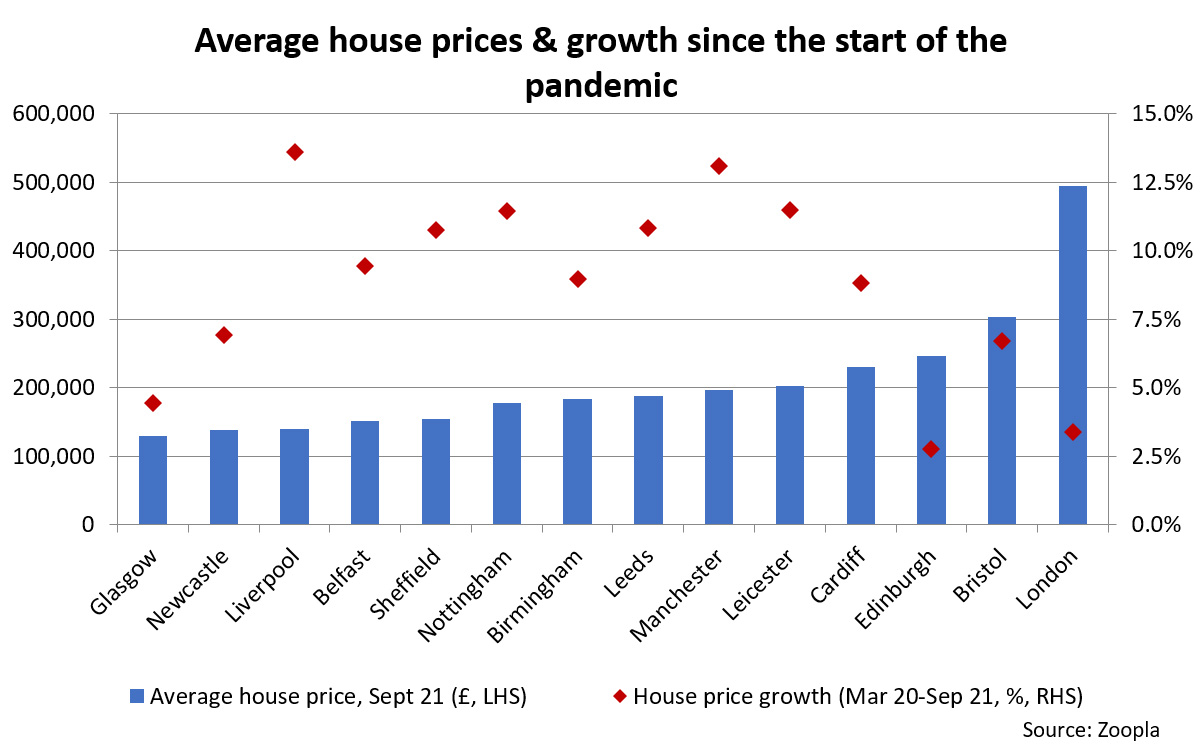 From drain to gain
Rising house prices in the regions support anecdotal and survey evidence that there has been a 'Reverse Brain Drain' over the last 18 months, as people have relocated from London in search of a better work-life balance, taking advantage of the opportunities provided by companies adopting more flexible working practices.
The topic has been the focus of multiple newspaper reports citing young people who chose to move back to their home towns during lockdowns, or to relocate to more affordable locations. Further evidence of this trend came from a survey by TotalJobs, which found that as many as 38% of Londoners were reconsidering where they live as a result of COVID-19.
It remains to be seen whether this was a temporary phenomenon brought on by lockdowns, but expectations that companies will offer more flexible working options appear to have become entrenched. Moves towards more decentralised office models, which place less emphasis on people working from a London headquarters, could also help to turn the Reverse Brain Drain into a longer-term trend.
Attracting talent on the move
In order to capitalise on the Reverse Brain Drain, regional cities will need to attract young people with amenities and housing suited to their lifestyles. Regeneration and residential development projects may be crucial in creating attractive city centres where people want to live and work.
Manchester provides the proof that this can be achieved. The city centre has undergone a reinvention over the last two decades, enabling its population to increase by 120%. According to Manchester City Council's latest 'State of the City' report, there are now 72,000 people living in the city centre, and this is forecast to rise to 100,000 by 2024.
Manchester city centre has a young population profile, and much of its recent growth has been driven by graduates and young adults attracted by new housing and career opportunities. HESA data shows that Manchester not only has the highest graduate retention rate outside of London, but that it is also successful in attracting graduates from other UK cities.
Rethinking office locations
A continuation of the Reverse Brain Drain would present new options for companies planning their future office strategies. Cities with growing cohorts of young talented people, which also benefit from significantly lower office rents than London, would become increasingly attractive office locations. The viability of hub-and-spoke office models will improve if the regional spokes are able to recruit from higher quality pools of local labour.
While increased home working during the pandemic may have been the initial trigger for a reversal of the Brain Drain; the continued adoption of flexible working policies in the post-COVID era could both enable it to continue and help companies to attract young people to work in more cost-effective office locations.
If more high-flying graduates are encouraged to stay near to regional universities, this may lead to them working for, or founding, innovative start-up and spin-out companies. An increased volume of office and laboratory space suited to growing science and technology businesses may be needed to support high-value knowledge-based employment in key cities.
Not every regional UK city will be in a strong position to benefit from a Reverse Brain Drain. However, those with vibrant regenerated city centres, modern office spaces and affordable housing may increasingly be able to attract young people who would have previously gravitated towards London.
REGISTER FOR UPDATES
Get the latest insight, event invites and commercial properties by email