It is a well known fact that property accounts for around 40% of total UK carbon emissions, roughly half of which comes from commercial property. Thus, if the UK Government is to stand any chance of meeting its aim to reach net zero carbon emissions by 2050, stakeholders in the property industry have a key role to play.
Download the full Regional Office Market Report 2021.
While the technical shifts required in the construction of net zero buildings from a whole-life perspective pose an ongoing challenge for developers, the shift to net zero from an operational perspective is becoming ever more attainable.
Over the past decade, LSH's Property Management team has advised a host of landlords on lessening the carbon impact of their assets, in the process driving positive outcomes for tenants.
LSH is property manager at BauMont and V7 RE's Here+Now scheme, Thames Valley Park. Totalling 145,650 sq ft in two buildings, the newly refurbished scheme has BREEAM Outstanding and Fitwel 3 Star certifications.
High on the agenda
Climate change has been catapulted to the fore of public consciousness over recent months, and even came to dominate the news agenda when Glasgow hosted COP26 in October. Meanwhile, a sharp rise in energy costs coming in the wake of the pandemic has escalated occupier concerns around
usage and efficiency.
Until recently, the sustainability agenda in commercial property was largely driven by the need for corporate reporting among major landlords and bluechip occupiers. But this has expanded enormously in recent times, with ever more landlords and a greater breadth of office tenants large and small seeking better from their buildings, with regard to both their sustainability credentials and the services provided to drive positive behaviour.
Here, we outline five key steps landlords are taking to drive their buildings towards net zero operational carbon emissions:
First, measure up
While there may be every willingness among landlords to lower their buildings' carbon footprints, proactive measures must be informed by accurate and reliable data around energy use. Whole-building and tenant-specific data outputs form the keystone to successful environmental reporting.
Deploying AMR (automatic meter reading) is crucial to benchmark a building's overall energy consumption, alongside that of the individual tenants. This data is often hidden away from view, but landlords are increasingly presenting this information more publically, for example on a screen in the reception area, or via an app.
Such visual cues give greater transparency, allowing occupiers to benchmark themselves with other occupiers in the building, or against an industry average.Far from being about naming and shaming, it allows both landlords and their tenants to drive wider engagement, set goals for improvement and demonstrate their commitment to staff and clients alike.
Smart Energy Management
The installation of AMR typically goes hand in hand with - or is the forerunner to - practical steps to drive down energy use and improve efficiencies. Chief among these is to use smarter technology to improve the energy management of the building's heating plant.
For many of the office buildings LSH manages, our partners 4D Monitoring provide landlords with a simple and low cost retrofit plant management system. This typically generates utility savings of up to 30%, even in cases where the Building Management Systems (BMS) control the plant. The system, which uses small sensors about the size of Scrabble tiles, sends real time data back to an online portal and is very effective at identifying energy wastage.
While in their infancy within existing building stock, other smart systems exist which allow lighting, heating, air conditioning and ventilation to be monitored and adjusted according to a building's usage and occupation.
Buying green energy and carbon offsetting
The UK energy grid has become much greener over the past decade, with energy from renewable sources making up 42% of UK electricity in 2020 thanks to a massive ramping up of offshore windpower.
The expansion in renewable capacity has brought with it much greater choice in the energy market, and we work with our supply partners Good Energy to source 'renewables only' energy deals for our landlord clients. Moreover, while the energy market is currently volatile, the costs associated with switching away from 'brown electricity' has, on occasion, generated savings rather than additional expense.
While some critics argue that carbon offsetting does not address consumption, it is however recognised as a legitimate approach to mitigate carbon impact by the Carbon Trust, with certification established via the PAS 2060 international standard. Here + Now, Thames Valley Park has a net zero carbon target alongside its refurbishment, inclusive of a full life carbon assessment. As property managers for the asset, we are planning to offset the carbon production from the ongoing operation of the building with tree planting in a certified scheme in the UK.
On-site generation
Where there is scope to do so, installation of photovoltaics (PV) is becoming increasingly popular as a means of lowering dependency on fossil fuel-based energy from the grid, while the technology, efficiency and affordability is constantly improving.
As property managers, we have successfully funded a host of PV Installations especially on lease events. This can benefit the occupier with reduced electricity costs through tying into advantageous purchasing agreements, while the capital funding for the scheme by the landlord client may be offset though a lease extension. The property manager is the link between the landlord and tenant and is ideally placed to identify opportunities on lease renewals to engage with occupiers, not just on the rent / rates and service charge cost but also energy, which is another substantial cost for any large occupier.
Driving low carbon travel
While the movement of staff to and from the office falls outside of the building, efforts to lower the carbon footprint of staff travel can nonetheless help occupiers to lessen their wider environmental impact. This can be particularly useful to out of town developments, where car usage often dominates over public transport. Various initiatives can help, including shuttle buses and car sharing policies, worked up between landlord and tenants.
The recent fuel crisis, along with government incentives on company car schemes, has also seen a huge increase in demand for EV chargers in buildings, with some buildings now close to capacity, and occupiers asking for more than are currently installed.
At Capital Park, Cambridge we have worked with the landlord Nuveen and installed a 500 kWp system of PV panels on a car port system across two car parks which directly powers the EV car chargers underneath.
There are 140 tonnes of CO2 savings predicted in the first year alone.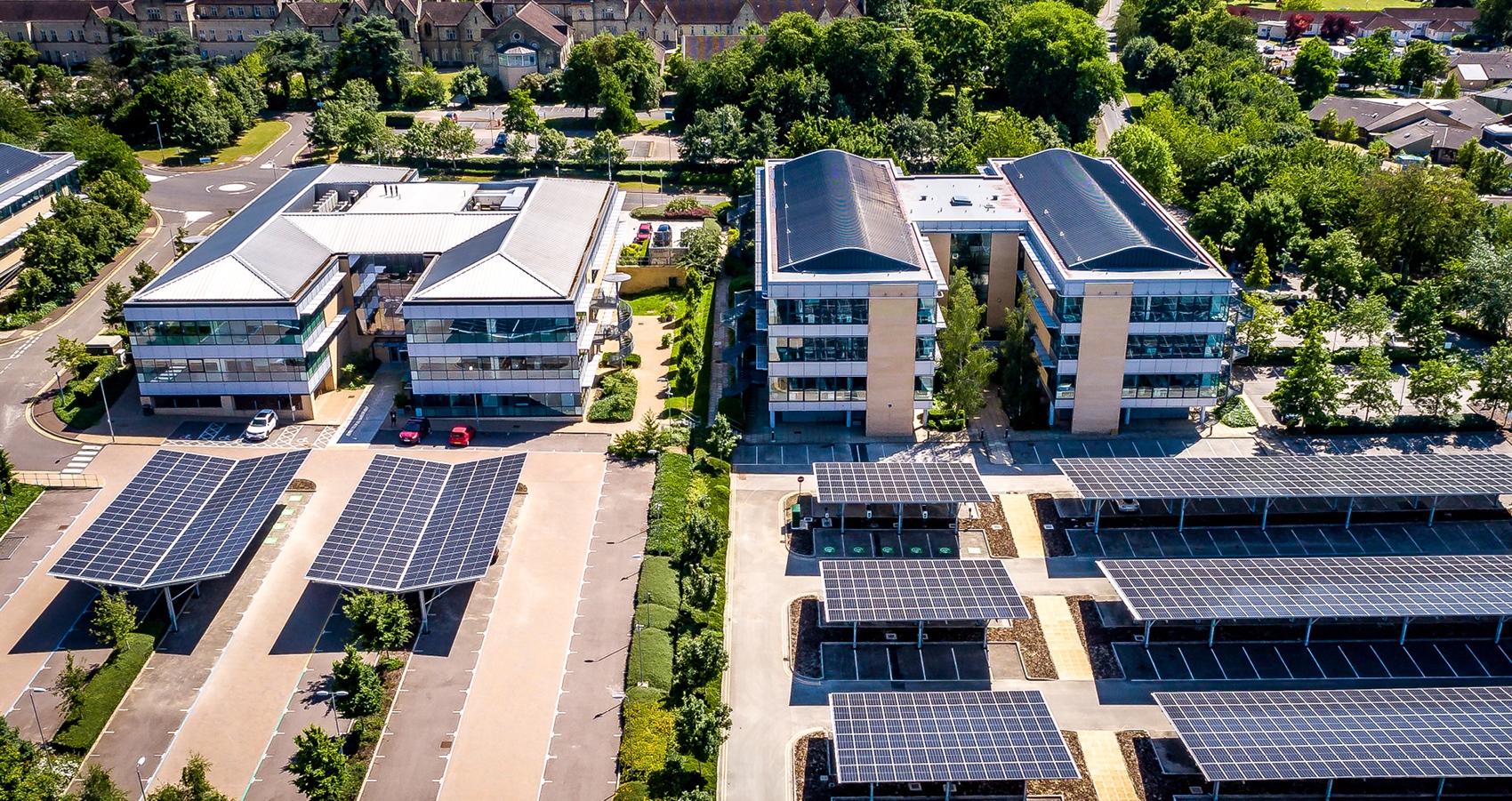 Car park PV installation at Capital Park, Cambridge
When to strike?
The big question has always been; are occupiers and/or landlords prepared to pay for it? But the answer is, frankly, more nuanced than simply yes or no. Despite upfront capital costs, sustainable initiatives can be used to reduce operating costs and, because of the credentials they bestow, can help to retain tenants.
One of my mantras is to 'avoid a void'. Happy tenants do not think about leaving, so it is definitely worth the investment in my book. Lease events provide the ideal moment for landlords and tenants to discuss and identify measures to move towards large-scale improvements towards net zero operations, while the management of ongoing operational costs and effective property management is also where we add so much value as property managers.
As one of the UK's leading property managers and agents, our regular discussions with occupiers and landlords are generating an excellent understanding of their needs around sustainability. That crucial link between owner and occupier allows us to understand what's needed, how it can work and the solutions that are available.
REGISTER FOR UPDATES
Get the latest insight, event invites and commercial properties by email