The UK's labour market has been one of the strongest aspects of the economy in recent years. However, an increasingly tight labour supply presents growing challenges for a logistics sector hungry for workers.
Labour is the biggest single cost borne by logistics occupiers, sometimes representing more than 50% of operating expenses and dwarfing property costs. Alongside access to a reliable power supply, which is itself a growing issue, the continued availability of labour is one of the key requirements for the successful operation of a logistics property.
National skills shortage
The latest UK Logistics Confidence Index, published by Barclays and Moore Stephens, reports that 51% of logistics firms cite a shortage of skills as the most important issue facing them today. The skills shortage is evident from management roles through to warehouse operatives, and there is a particular concern around the ageing workforce of HGV drivers, 63% of whom are 45 or over according to the Freight Transport Association (FTA).
This existing skills shortage also has the potential to be exacerbated by Brexit, with the sector heavily dependent on EU labour. The FTA reports that 19% of warehouse workers and 25% of forklift drivers are EU nationals, which compares with about 8% in the wider UK workforce. The total number of EU nationals working in the UK has been in decline since 2017, and a continuation of this trend could lead to a significant reduction in the pool of available labour.
In the face of this labour shortage, many logistics occupiers are seeking to expand their headcounts, driven by the increasing demands of the ecommerce sector. Companies are under growing pressure to offer improved pay and conditions in order to attract workers. There is a particular need for the logistics sector to attract a younger workforce by improving the image of the industry and creating roles that match young people's career aspirations.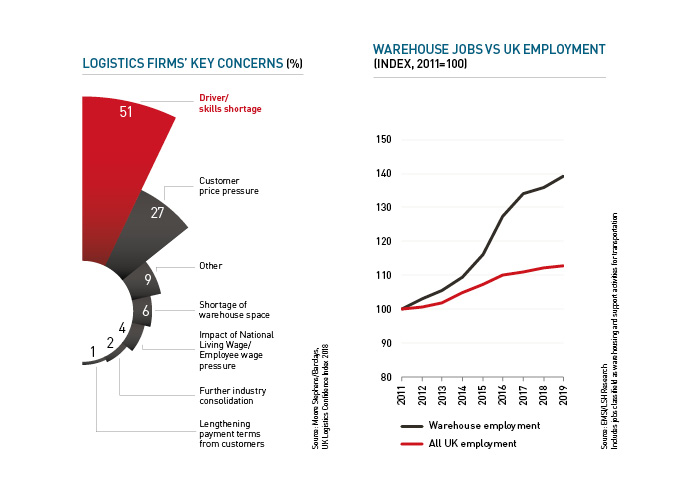 Location, location...labour
In the context of a national skills shortage, labour has become an increasingly important factor in logistics occupiers' location decisions. Sites close to key transport links have long been sought-after, but there is a growing recognition that the ideal location is one that balances access to the transport network with a readily available pool of relatively low-cost labour.
Occupiers in some of the UK's largest logistics property clusters find it challenging to source labour locally. By their very nature, big box warehouses are usually in out-of-town locations and major operators have to tap into the workforces of surrounding towns. Some operators will bus in staff from a range of local population centres in order to satisfy their labour requirements.
Occupiers considering whether to open new operations in current logistics hotspots will need to consider the strength of the competition for workers posed by existing occupiers. There have recently been examples of companies choosing to locate new facilities away from major logistics clusters, to places where the competition is less intense. This may mean opting for a location with slightly poorer access to the motorway network, accepting higher transport costs as the price of a more secure labour supply.
Varying local pressures
Labour availability can vary greatly at a local level. Travelling up and down a number of UK motorways, there are examples of junctions that have attracted large clusters of logistics development due to their proximity to local population centres, while adjacent junctions have seen almost no development owing to the perception that there is insufficient labour nearby. The danger is, however, that overdevelopment in attractive locations could result in the local labour supply becoming stretched.
Doncaster is a key example of a location that has been in a sweet spot for developers recently, with numerous new speculative projects. This stems not just from its position within the motorway network, but also the presence of a large local labour supply, with warehouse wages below the national average. While recent projects in Doncaster have been able to tap into this workforce, upcoming large‑scale developments will test the capacity of the local labour supply.
At a national level, labour costs are highest in London and the South East, which adds to the operating costs of urban logistics centres serving consumers in Greater London. The areas with the lowest labour costs are mostly in Wales, in locations away from core logistics markets. However, a number of relatively low cost locations have seen high levels of logistics market activity recently, including parts of the North East, North West, Yorkshire and the West Midlands.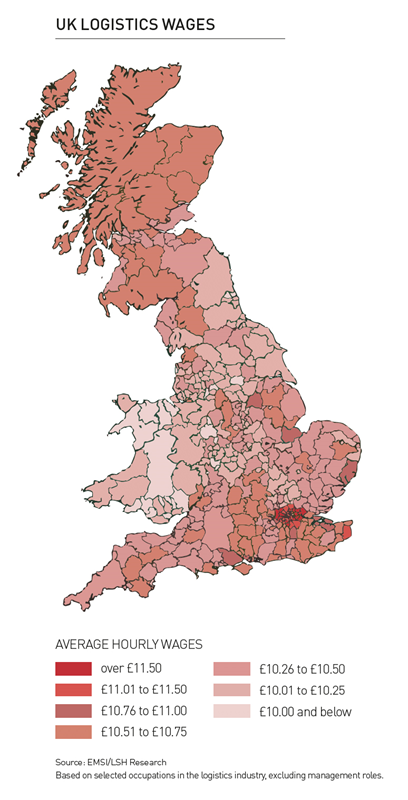 Changing workforces
Labour issues within the logistics sector do not purely relate to the size and cost of the workforce. Logistics operators also require a flexible labour force, reflecting seasonal peaks and troughs in consumer demand. With consumers expecting the increasingly rapid delivery of goods, there is also growing demand for 24-hour workforces.
Significant progress could be made in addressing the gender imbalance within the industry. The FTA reports that 86% of logistics industry employees are male which, in itself, suggests that the sector is not accessing as much potential labour as it could. Increased automation may reduce the labour demands of warehouse operators over the long term. However, the warehouses of the future are likely to make use of ever more sophisticated technology that will need to be operated by skilled workers. This may mean that the long term direction of travel is towards logistics workforces that are smaller, but more highly skilled and better paid.
In the more immediate term, labour supply issues are clearly a prime concern within the industry. For occupiers and developers, there is a complex balance to be struck in their location analyses, judging labour supply and labour costs against other concerns such as transport links and power supply issues. High levels of employment and wage growth are good news for the UK consumer, but they will add to the pressures on logistics property operators.
REGISTER FOR UPDATES
Get the latest insight, event invites and commercial properties by email