Short stays and central locations
At the heart of the growth of the compact hotel concept is the understanding that some hotel users require little more than a clean, comfortable, affordable and well-located room for the night. This is particularly true for young people and business travellers who may only spend a small amount of time in their rooms. Compact hotels are thus primarily targeted at single travellers and couples on overnight or short stays.
These types of visitors are most likely to stay in city centre hotels, and compact hotel formats have primarily gained traction in central locations, particularly in London. Sites close to airports and other transport hubs can also be well suited to budget compact hotels, designed to accommodate travellers seeking somewhere convenient to sleep for a night before travelling elsewhere.
A premier format
The UK's biggest hotel brand, Premier Inn, is prominent in the trend towards compact hotels through its offshoot, hub by Premier Inn. Since the opening of its first hotel in London's Covent Garden in 2015, the hub brand has grown to comprise seven hotels in central London and three in Edinburgh. Standard hub hotel rooms are 11.4 sq m, approximately 45% smaller than the footprint of a typical Premier Inn room.
Space-saving features are incorporated into the design, including under-bed storage and a desk that folds into the bed. The hotels aim to offer enhanced connectivity with, for example, room controls that can be operated from a smartphone app. According to Premier Inn, build and operating costs for hub hotel rooms are around 25% lower compared with its standard hotels. Given the smaller room footprints, this enables the hub hotels to achieve returns that compare well with regular Premier Inns, despite room rates that are up to 30% lower.
Compact concepts
Compact room layouts are being utilised by an increasingly diverse range of hotel brands. At the budget end of the spectrum are brands such as easyHotels and YotelAir. The former is positioned in the "super budget" segment, with rooms as small as 6 sq m in some of its London hotels. YotelAir's properties at Heathrow and Gatwick have "cabins" of 7-10 sq m which are bookable by the hour and targeted at air travellers making very short stays.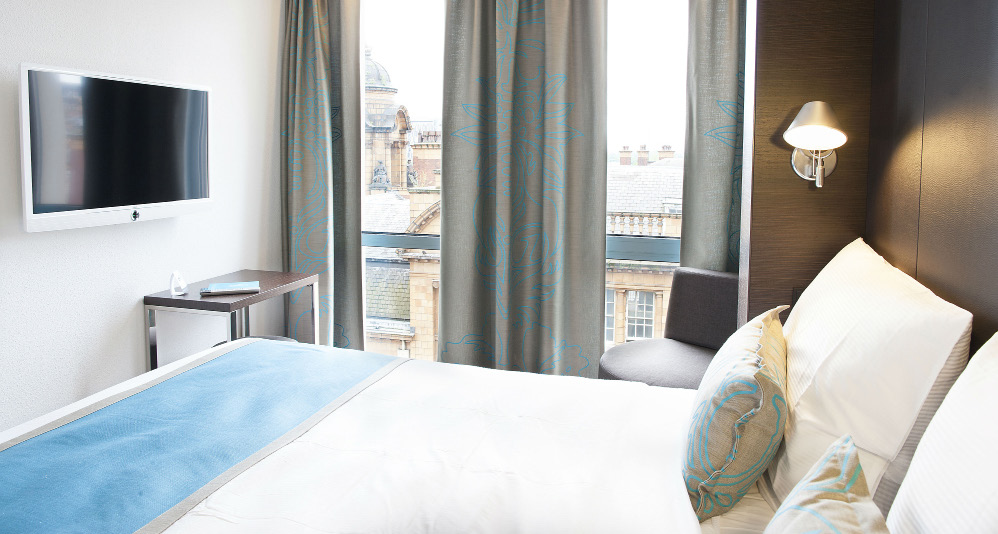 Motel One, Manchester Piccadilly
In contrast, other brands offer a luxury slant on the compact hotel concept. Z Hotels, which was launched in 2011, has seven properties in London and one each in Bath, Liverpool and Glasgow. Its smallest rooms are just 8 sq m, while standard rooms are 10-12 sq m. However, the rooms incorporate very high quality design and innovative technological features. This, along with the hotels' excellent locations, allows them to achieve very favourable room rates and high occupancy levels.
Marriott's take on the luxury compact hotel concept is Moxy, described as an "affordable boutique" brand. Its hotels feature lively, fashionable design with rooms of 16 sq m. The Moxy brand entered the UK in 2017 and has since opened six hotels, with five more due by 2020.
Other compact hotel brands of note include Point A, which was launched in 2017 with seven hotels in London and Glasgow, and has rooms typically in the 8-12 sq m range. Sleeperz is a brand with rooms of around 15 sq m, which has targeted sites near city centre railway stations; it currently has hotels in Cardiff, Newcastle and Dundee.
A number of international brands operating with small room footprints have entered the UK market. These include Germany's Motel One, with a typical room size of 16 sq m, and the Netherlands' citizenM, with rooms of approximately 14 sq m.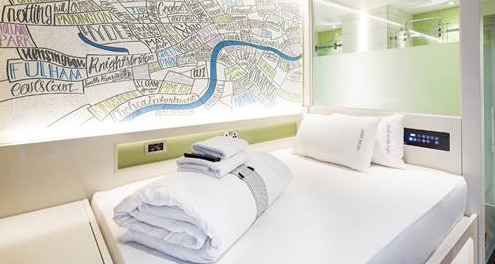 Hub by Premier Inn, London King's Cross
Growing market share
Over 4,000 rooms were delivered in new compact hotels during 2017-18, and a further 5,000 compact hotel rooms are in the development pipeline. LSH estimates that compact hotel rooms represented approximately 18% of all rooms to be opened in 2018.
Approximately 52% of the compact hotel rooms to open in 2017 18 were in London. However, reflecting the roll-out of compact brands into the rest of the UK, 75% of pipeline rooms are outside of the capital.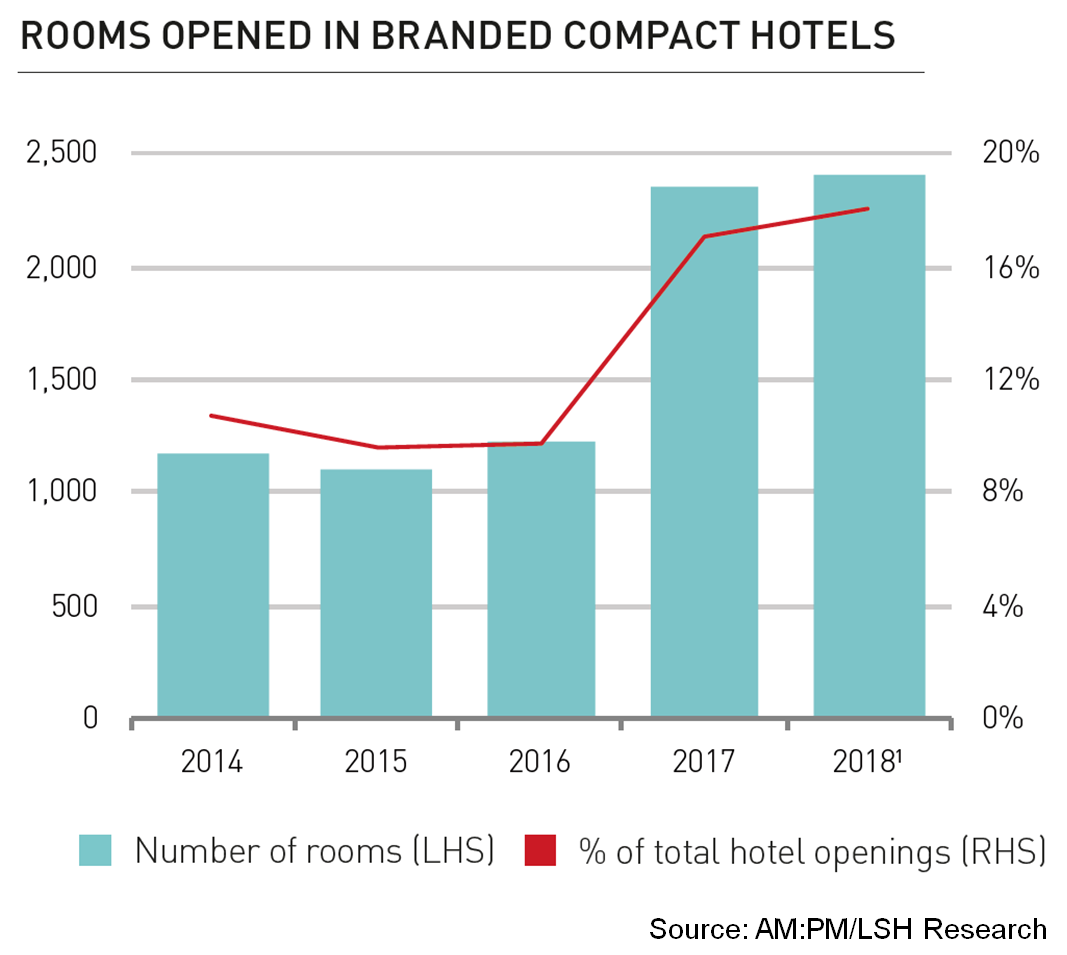 Maximising site potential
For hotel operators, compact room formats have the potential to maximise the number of rooms that can be offered in tight city centre sites. Smaller rooms provide greater flexibility and may unlock awkwardly sized or shaped sites to hotel development.
There is also the opportunity to make use of spaces without windows; a number of compact hotel operators, including Z Hotels and Point A, offer windowless rooms at a discount to standard prices.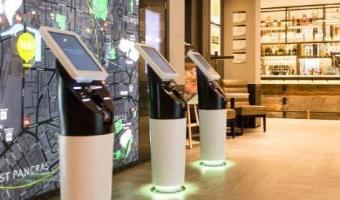 Innovation is being seen across the sector
Future growth and innovation
Compact hotels will not suit everyone – larger rooms will continue to be demanded by families and holidaymakers on longer stays. Nonetheless, there is significant growth potential within the compact sector and the success of brands such as hub by Premier Inn will encourage further development.
Many of the operators active within the compact hotel sector have introduced their brands firstly to the central London market, and there is still substantial scope for compact hotels to be rolled out in other UK city centres.
Innovations pioneered within the compact hotel sector can also be applied to other hotel types, and may help operators to maximise the value that they can squeeze out of rooms across their chains. Going forward, compact hotels are likely to be a key arena for growth and new ideas within the overall hotel market.
Latest insight
Disruption & innovation in the hotel market
Our inaugural report on the UK and Ireland hotel market.
Download report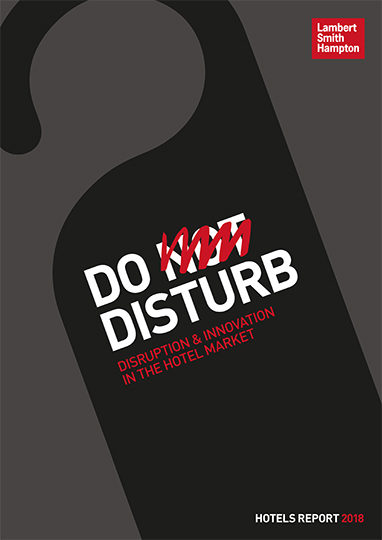 REGISTER FOR UPDATES
Get the latest insight, event invites and commercial properties by email