Mobile technology
Several recent advances in hotel technology have placed the mobile phone at the centre of a guest's hotel experience. Smartphones are increasingly used by guests to make bookings, check-in and access their rooms. Schemes that allow guests to use their phones as room keys, such as Starwood's SPG Keyless and Hilton's Digital Key, are being rolled out across a growing number of hotels. Mobile apps are also providing a more streamlined way for guests to order room service, make dinner reservations, book spa appointments or make housekeeping requests.
Apps can also be integrated with hotel customer relationship management systems, enabling hotel operators to use them to collect data on guests' behaviour and target hotel services at them accordingly.
Smart rooms
The hotel room of the near future may feature a dizzying array of devices and appliances connected to the "Internet of Things". Smart devices can allow guests to control in-room heating, lighting and entertainment facilities, and help the hotel to anticipate guests' needs. Smart thermostats, for example, are already used by many hotels to manage room heating, allowing room temperatures to be adjusted on check-in and check-out.
More advanced technology could incorporate in-room sensors able to identify when a room is occupied and adjust the heating accordingly. Sensors may also be used to detect when a guest gets out of bed and turn on lights guiding them to the bathroom, or to tell when a window has been opened and turn off air-conditioning.
Big data
A hotel guest creates a trail of data from the moment they book a hotel room to the time they check-out. The hotel industry is only in the infancy of understanding how to capture this data and use it to generate insights and income.
Data on how guests behave during their stays, including their usage of restaurants, gyms, room service or entertainment facilities, can be used at both the macro and micro level. It can provide insights on the needs of a hotel's entire customer base, or it can be used to tailor an individual guest's hotel experience.
Other applications of big data in the hotel industry may include the aggregation of internet reviews to understand a hotel's strengths and weaknesses, or the use of data to predict when prices can be raised in order to maximise hotel revenues.
Artificial intelligence
Artificial Intelligence (AI) goes beyond smart technology. It does not just react to the individual, but it learns from and makes decisions for them.
Potential applications of AI in hotels include concierge robots, which have been tested by hotel groups including Hilton. At a basic level, robots can be used to complete manual tasks such as carrying luggage or delivering food to rooms. At a more advanced level, robots could interact with guests; perhaps answering questions and making suggestions about hotel services, entertainment options or nearby tourist attractions, while continually learning about the guest's preferences.
Other AI interfaces may include voice-activated chatbots or screens embedded into hotel room walls. These need not replace human interactions, but could help to free up staff from day-to-day tasks and enquiries, giving them time to respond to more complex customer requests.
Latest insight
Disruption & innovation in the hotel market
Our inaugural report on the UK and Ireland hotel market.
Download report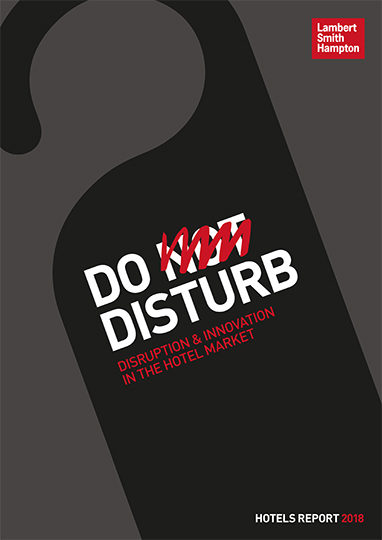 REGISTER FOR UPDATES
Get the latest insight, event invites and commercial properties by email