Warwickshire has been home to one of the fastest growing economies in the UK over the last decade. The region's growth is now bringing increased inward investment to Coventry, whose city centre is in the midst of significant regeneration.

City of growth
Coventry's status as a growth city was underlined earlier this year by LSH's Vitality Index, which ranked it as one of the ten fastest-growing locations in the UK. Its growth is built on a diverse economic base, with a well-established manufacturing industry complemented by expanding sectors such as business services, technology and media.
Driving forward
Coventry and Warwickshire have a strong tradition of automotive manufacturing. Jaguar Land Rover's global headquarters are in Coventry, while Aston Martin is based near Warwick. The region's continued importance as an automotive hub will be supported by the opening of the UK Battery Industrialisation Centre in 2020, which will put Coventry at the forefront of the move towards electric vehicles.
However, other sectors are making increasingly important contributions to the local economy. Healthcare & life sciences was recently ranked by BDO as the region's fastest growing sector, with companies such as AAH Pharmaceuticals based in Coventry.
Technology is another key growth area, highlighted by the presence of the 'Silicon Spa' gaming cluster in nearby Leamington Spa. Knowledge-based sectors are supported by the region's higher education institutions, with the University of Warwick Science Park and Coventry University Technology Park both providing space for growing companies.
A city under transformation
In tandem with its evolving economy, Coventry's city centre is undergoing a transformation. The skyline is awash with cranes, which are testament to the significant investment being made to enhance the urban landscape. The largest and most important of the city's regeneration projects is the £700m Friargate scheme, which will create a new business district with a mix of office, retail, residential and leisure uses. The scheme's first building, One Friargate, was completed in 2017 and provides office accommodation for Coventry City Council and the Financial Ombudsman Service.
Work is expected to start soon on Two Friargate, which will provide over 136,000 sq ft of speculative grade A offices, alongside retail and leisure space. Ultimately, the vision for Friargate is that it will include 3.2m sq ft of mixed-use space across 25 buildings, with development likely to take place over the next 10-15 years.
A new gateway
Friargate is located next to the city's railway station, which itself is receiving an £82m overhaul to cope with rising passenger numbers and provide a significantly more attractive gateway for visitors to the city.
Work on the station is expected to be completed by 2021, when Coventry will be the UK's City of Culture. An additional 2.5 million visitors are expected to Coventry in 2021, and the year will provide significant opportunity to enhance perceptions of the city and attract inward investment.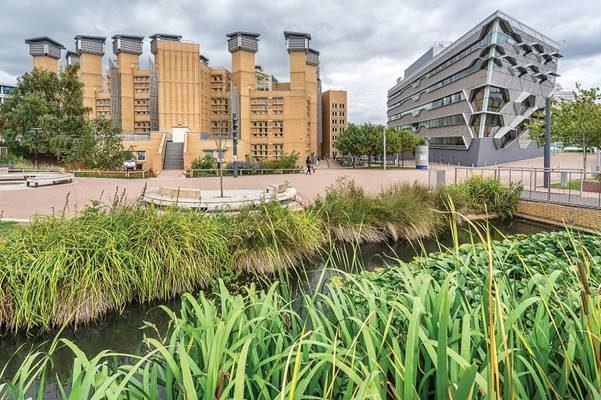 Development hotspots
While Friargate is the biggest potential game-changer, Coventry's built environment is being transformed by a multitude of other regeneration projects. The city's retail provision is in the midst of a makeover, with the Cathedral Lanes shopping area being redeveloped, and work underway on the overhaul of the Upper Precinct. The long-awaited City Centre South project also promises to revitalise Coventry's retail and leisure offer, albeit plans are yet to be finalised.
Other projects transforming the city centre include The Wave, a new £36.7m water park opening in summer 2019; the redevelopment of the former Coventry Evening Telegraph building into a boutique hotel; and CODE, a student accommodation development that includes Coventry's tallest tower.
Sent to Coventry!
Coventry's geographical location, at the heart of England and only a 20 minute train journey from Birmingham, is a significant advantage. Major developments such as Friargate will help to make it an increasingly attractive alternative office location to Birmingham, offering a significant rental discount. Coventry is undergoing a transformation, which is evident both in the regeneration of the city's built environment and in the reinvention of its economy. Nowhere is this more evident than in Coventry's automotive industry, which embraces both its traditional manufacturing strengths, while also being at the cutting edge of autonomous vehicle technology.
The combination of a diverse economy, skilled workforce, advantageous location and forward-looking business environment puts Coventry in a strong position to attract continued inward investment.
REGISTER FOR UPDATES
Get the latest insight, event invites and commercial properties by email