Download a copy of our Scotland Office Market Report 2019
Creating places where people want to live, work and play is at the forefront of modern development and all of our key Scottish locations have big plans.
Placemaking, the relationship between people and place, is not a new concept but is at the heart of design and development of new spaces. Major placemaking projects are either underway or proposed for each of our key Scottish locations.
With structural changes impacting retail, the regeneration 'rulebook' has been re-written over the past decade. Housing and employment uses are increasingly regarded as the key drivers of contemporary regeneration. Getting the right mix between civic, living and commercial uses, alongside the green and urban spaces between them is key to creating long term value.
Buchanan Wharf, Glasgow
On the south of the River Clyde, Drum Property Group broke ground at the mixed-use Buchanan Wharf scheme this year. A primarily office-led scheme, the plan is a re-imagining of this previously neglected area. Buchanan Wharf will be a stimulating and attractive environment in which to work, live and visit.
With plans to deliver over one million sq ft of office space along with residential, hotel, amenities and public spaces, this development has the potential to re-define Glasgow city centre's boundaries.
The first phase, currently underway, is development of Barclay Bank's new 470,000 sq ft regional HQ, with an option to extend by a further 210,000 sq ft in phase two. Also agreed is L&G's forward funding of 324 build-to-rent apartments.
Artists impression of Buchanan Wharf, Glasgow: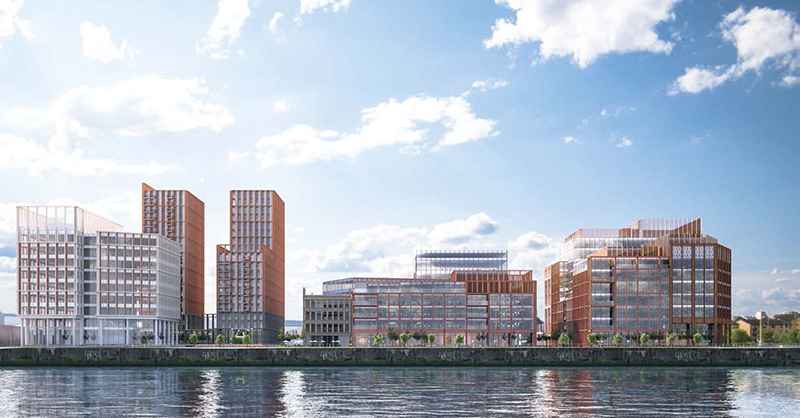 Haymarket, Edinburgh
Haymarket, one of Edinburgh's most prominent regeneration sites, was bought by M&G in June 2018. The development proposal for this 1.6 hectare mixed-use site includes office buildings, retail and hotels situated around a new public space.
This scheme is a major source of office supply, delivering 380,000 sq ft of new space in large floorplates. Full revised plans were submitted during summer 2019
by Qmile Group, who were also responsible for the Quartermile development.
Construction of the first phase office building extending to 110,000 sq ft will start speculatively in the New Year with completion expected by end 2021.
Haymarket aims to be a positive addition to the public realm, adding urbanity to the city and becoming an amenity for the local area as well as the city at large.
Artists impression of Haymarket, Edinburgh: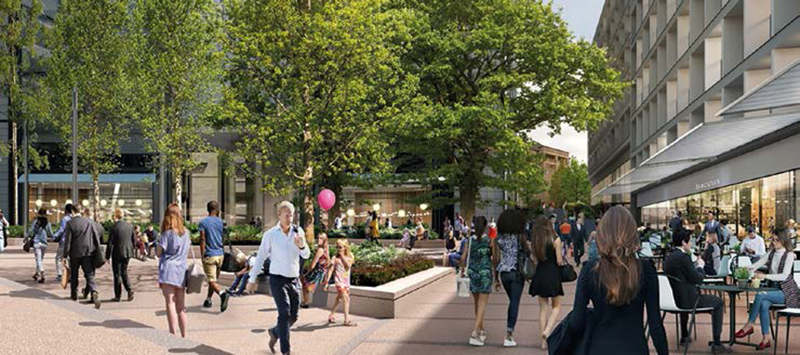 Queen Street, Aberdeen
Aberdeen City Council has published proposals for a residential-led mixed-use redevelopment of the Queen Street area, adjacent to the 173,500 sq ft Marischal Square office building that completed in 2017. With placemaking and high-quality urbanism at its core, the scheme is potentially the most significant regeneration project for Aberdeen in living memory.
Designed to progress the City Centre Masterplan, the scheme envisages a new 'urban heart' for the city through city centre living, cultural and civic functions.
Aberdeen is a global energy hub, but the Council recognises that the city centre is once again becoming a commercial core for office occupiers. In response, the Council is seeking to recast the city centre's role and the Queen Street proposals will bring further cohesion to the area.
The project's estimated Gross Development Value is c.£150m, with development planned to take place between 2020-2026.
Artists impression of Queen Street, Aberdeen:
REGISTER FOR UPDATES
Get the latest insight, event invites and commercial properties by email