WeWork's emphatic debut into Birmingham is a major statement of intent and a clear vote of confidence in the city's long term prospects as a business location. As structural change sweeps through the office market, landlords of more conventional offerings cannot afford to stand and watch.
Birmingham's flex phenomenon
In Q2, WeWork's leasing of 226,000 sq ft across three separate buildings in Birmingham city centre was alone equivalent to over 70% of total take-up in the quarter. As a proportion of activity, Birmingham has also witnessed more acquisitions from flex-space operators than any other UK market over the past 18 months, including Central London, amounting to well over a quarter of take-up.
Why now? Why Birmingham?
The recent spike of flex-space activity in Birmingham is linked to a perfect storm of factors. In a rush to grab market share, structural changes to the nature of occupier demand have preceded something of a 'space race' among operators and their respective investors. The initial clamour began in Central London, in 2017, and has subsequently rippled out to the UK's other major centres.
Birmingham itself is a prime target for expansive operators. The city boasts a higher rate of growth in service sector businesses than any other major UK city over the past five years and was second only to London for the number of new business start-ups in 2018.
This, alongside a stream of contract-led requirements in the city, is highly conducive to flexible office demand.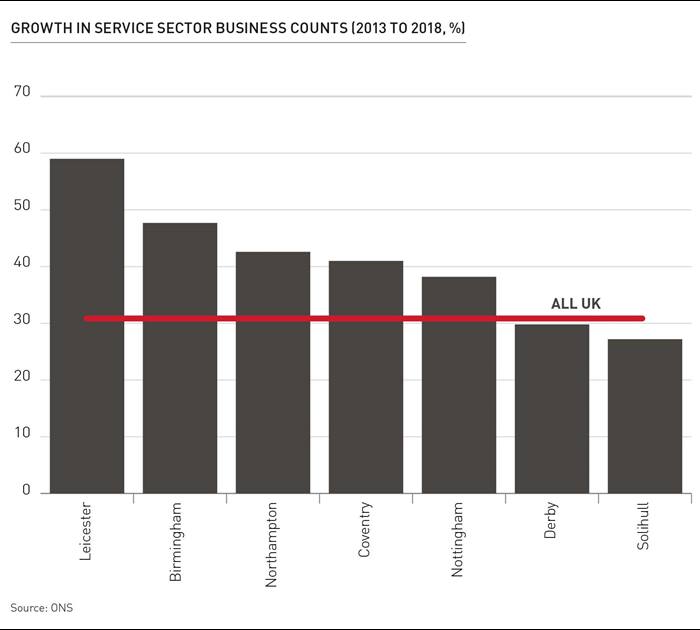 And it's still early days
Despite the scale of activity within Birmingham lately, the growth of flex-space is off a relatively low base. LSH Research reveals that while Birmingham is home to the highest proportion of flex-space among the region's key markets, equivalent to 2.5% of total stock, this is relatively low when viewed in context with the UK's South East markets (3.8%). Indeed, when WeWork's recent acquisitions become operational, it will merely take Birmingham into line with the South East.
There is clearly headroom for growth.
Contrasting occupancy rates
While Birmingham's scale and positive attributes merit the attention it has received, the region's other key markets should not be dismissed out of hand. The variation in both current levels of flex-space provision and prevailing levels of occupancy should be an important consideration to both landlords considering more flexible leasing offers and serviced office operators seeking to exploit
gaps in the market.
Occupancy levels vary widely between locations; Nottingham and Coventry's total flexi-space offering currently enjoys a 90% occupancy rate, some way ahead of Birmingham city centre's which currently stands at only 69%. Meanwhile, with growth of 60% in just five years, Leicester has seen one of the strongest rates of business count growth of anywhere in the UK, which ought to bode well for the demand for flexible solutions.
A wake-up call for landlords
WeWork's current troubles are well documented but with plenty more serviced office requirements set to enter the markets, the recent activity we have seen is no flash in the pan. So, should landlords of conventional offerings be concerned? The tides of structural change will see more and more occupiers, particularly at the smaller end of the market, turn to flexible offerings. Indeed, recent take-up in Birmingham revealed a thinning of traditional leasing activity in the sub 5,000 sq ft category, not because of a downturn in demand per se but rather a transition of demand from conventional leased offices to new high quality flex space offerings.
While traditional serviced offices typically lack the wow factor, the new wave of flex space operations are raising the bar in quality, in terms of design, appeal and amenity provision. Landlords of more conventional offices have to adapt their own offerings to meet the growing appetite for an office to reflect a more holistic, aspirational lifestyle that extends beyond only the functional need for space.
REGISTER FOR UPDATES
Get the latest insight, event invites and commercial properties by email