EVOLVING WORKING PRACTICES
The built environment has a critical role to play in motivating and attracting staff. Until recently, developers and landlords were focused on building functionality and design. The introduction of BREEAM in 1990 was the first major step change in the construction process, setting best practice standards for the environmental performance of buildings and becoming an industry benchmark.
Since then, property betterment has become a primary relocation driver, fuelled by the meteoric rise in Corporate Social Responsibility, which has pushed social, economic and environmental considerations up the business agenda.
Rapid technological advances and new generations entering the workforce have driven new ways of working. Now, businesses have begun to turn their attentions to the link between their employees' physical and mental wellbeing and productivity and to see wellness as a source of competitive advantage, both in terms of brand awareness, talent acquisition and staff retention.
DEFINING WELLNESS
As a concept, 'wellness' is relatively new and there is still considerable ambiguity around its definition. At its most basic level, wellness can be defined as a "state of being in good health, especially as an actively pursued goal".
However, it is intangible, difficult to define and even harder to measure. This makes developing and even identifying buildings that promote workplace wellness a challenging task.
The WELL Building Standard® was introduced by the International WELL Building Institute (IWBI) in October 2014 as an evidenced-based system for measuring, certifying and monitoring the performance of building features that impact health and wellbeing. Focusing on seven categories of Air, Water, Nourishment, Light, Fitness, Comfort and Mind, WELL identifies a series of performance metrics, design strategies, and procedures that can be implemented to improve building occupant health and wellbeing and assess a building's wellness quality. For landlords, the return on investment will come from differentiation; attracting the highest-quality tenants will enable them to command premium rents, increase their property values and reduce potential void risks.
RACE TO THE TOP?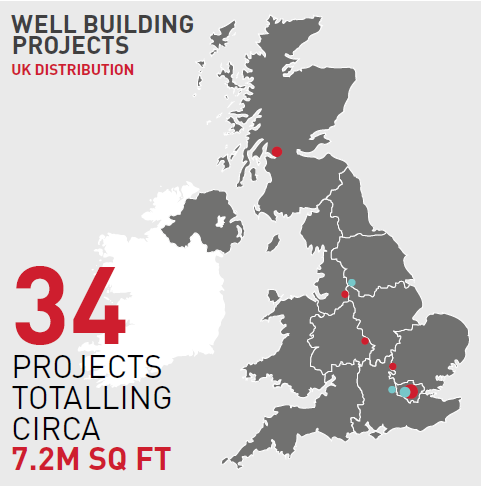 Despite these far-reaching benefits, in the four years since its introduction, a mere 34 projects across the UK totalling circa 7.2m sq ft of office space have been registered, only four of which have reached certification status. Globally, there are just-under 900 WELL Building projects; the majority of which are in the United States and China.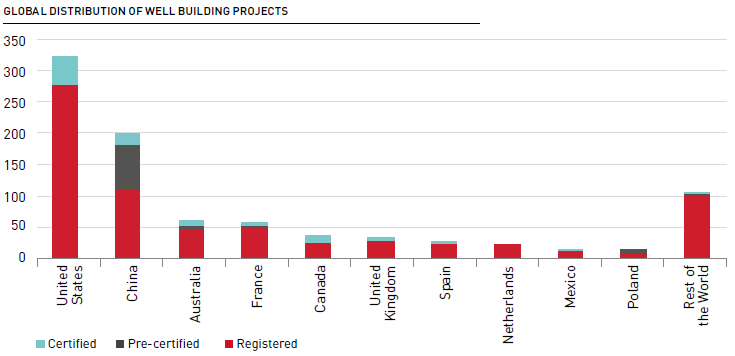 The reason so few buildings have achieved certification is because of a lack of understanding about occupiers' changing demands. However, the Well Building Standard is gaining momentum as occupiers recognise that buildings can help to improve productivity and maximise staff retention and attraction.
For occupiers targeting Millennial and Generation Z talent, this is particularly key as these actively seek out employers who offer a technology-rich, stimulating and wellbeing focused experience.
Technology can be integral to the wellness movement too, as it facilitates a seamless, intuitive and personal user experience. Amsterdam's The Edge shows where the market will move to over the next 10–15 years, using sensors to constantly monitor the environment and match individual users' requirements and preferences with the right spaces and facilities. There's no need to tweak blinds, when a building is actively catering for your changing needs.
True wellbeing extends beyond the capabilities of building systems and takes into account how its users are engaged, stimulated and supported on a daily basis. One of only two buildings with Well Building certification in Manchester is Bruntwood's £8m NEO and it demonstrates how wellness and productivity work in tandem. It uses cladding to maximise natural light, which is widely recognised as one of the major sources of psychological comfort, a well-designed open air terrace to provide green space for relaxation, contemplation and sociability and the inclusion of an onsite art space to provide creative stimulus.
Occupiers are increasingly aware of the physical and mental impact of the workplace – something that is evident in the growing number of wellbeing influenced office fit-outs. Developers and landlords have a key role in enabling this change. Through proactive collaboration, developers and landlords can foster an environment where workplace wellness can flourish and, in time, this will ultimately be reflected in investment returns.
This article first featured in our Northern Powerhouse Office Market Report 2018/19. Click here to request a copy.
REGISTER FOR UPDATES
Get the latest insight, event invites and commercial properties by email