(Image credit: Urban Planters, TOCS 2023 contributor)
Despite ongoing high inflation, greater stability in the energy market helped to soften the pace of office cost growth across the UK.
Across the 54 surveyed locations, the average cost of occupying a new-build office increased by 3.4% over the over the 12 months to September 2023, decelerating sharply from the record 12.4% year-on-year increase recorded in last year's survey. Amid much sharper rises across other cost metrics, a near halving in energy prices was key to the relatively modest annual increase.
The effect of falling energy prices was felt even more keenly for typically less energy efficient 20-year old office buildings, with average total office costs across the 54 locations remaining stable over the past 12 months, following an eyewatering 18% annual increase in last year's survey.
Despite the strong increase in total office costs observed over the past two years, costs remain lower in real terms compared with the position on the eve of the Global Financial Crisis in 2008. Adjusted for inflation, total costs for new build offices stand 9% below the position 15 years ago.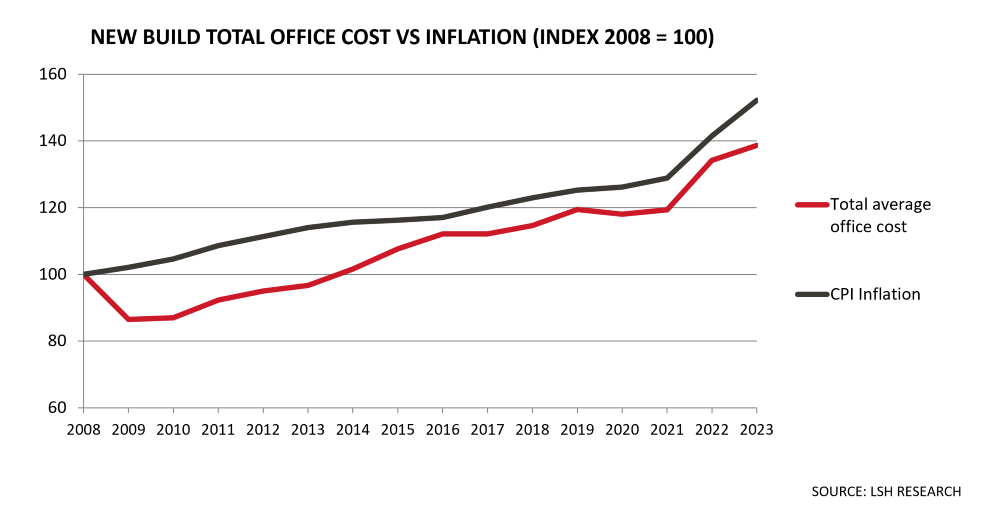 Relief over falling energy bills
Usually, of the 22 office cost metrics, changes in rents are the main determinant of overall total office cost movements from one year to the next. However, given high inflation and volatility in the energy markets, other costs associated with office use have had a stronger impact on overall costs over the past two years.
According to energy services provider ZTP, a key contributor to TOCS, energy prices have fallen by 46% from their peak at the time of last year's survey in summer 2022. Despite the fall, current energy costs remain relatively elevated, accounting for 4.1% of total office costs for a new-build office in the 2023 survey and comparing with an average of 2.8% over the five years prior to last year's energy crisis.
Business rates revaluation drive cost increases
While a sharp fall in energy prices helped to quell the rise in total office costs in 2023, significant upward cost pressure came from increased business rates liabilities. For new-build offices, rate liabilities increased by an average of 19% since last year's survey to account for 15% of total office costs.
The sharp increase in rates liabilities stems from the government's latest Rating Revaluation, which came into effect in April 2023, and largely reflects changes in rental values across the 54 surveyed locations since the previous revaluation in 2017. However, significant variation was evident between the 54 surveyed locations. Nine locations saw rate liabilities for new build offices increase by less than 10% year-on-year, while seven locations saw growth of more than 40%.

Strong inflation associated with other office costs
Reflecting the ongoing inflationary environment seen across the UK economy, several smaller office cost metrics recorded considerable growth over the year. For example, strong inflationary pressures around food and labour costs were reflected in a substantial 24% annual rise in catering costs, while cleaning and furniture costs also saw double digit increases from the previous survey.



Flight to quality fuels strong rental growth
The latest survey also provided continued evidence of a clear flight to quality in occupier demand in the wake of the pandemic. Over the 12-month period, rents for new-build offices increased by an average of 6.8% across the 54 locations, accelerating from 6.0% growth in the preceding year and the strongest annual rise on the survey since 2015.
Meanwhile, rents for notional 20-year old buildings increased by a more modest 3.9% on average since the last survey. While this is the strongest rate of growth since 2018, it was the fifth successive year that 20-year old buildings saw slower rental growth than new buildings.
However, the overall cost premium associated with new office buildings due to higher rents continues to be partly offset by the higher energy costs associated with less efficient 20-year old office buildings. Despite the sharp fall in energy prices since the peak in 2022, the new-build office cost premium over 20-year old buildings stands at only 11%, significantly below the long-term average premium of 16%.
Oxford sees the strongest annual cost increase
Differing rates of rental growth and revised rate liabilities over the past year drove notable contrasts in overall office cost movements across the 54 locations. With regard to new buildings, Oxford saw the sharpest annual increase, with occupier costs rising by 14% on the back of a substantial 26% growth in prime rents and a 43% rise in rates liabilities. Notably, Oxford (£113 per sq ft) and Cambridge (£114 per sq ft) are the only two locations outside of Central London to see total costs for new buildings move to above £100 per sq ft.
As ever, London's core West End remains by far the UK's most expensive office location, with the annual cost for a new office in Mayfair standing at £21,765 per workstation, 135% above the UK average and 47% ahead of the next most expensive location, the City of London. Both of these locations saw total costs for new build offices rise by over 10% from last year's survey fuelled by strong rental growth.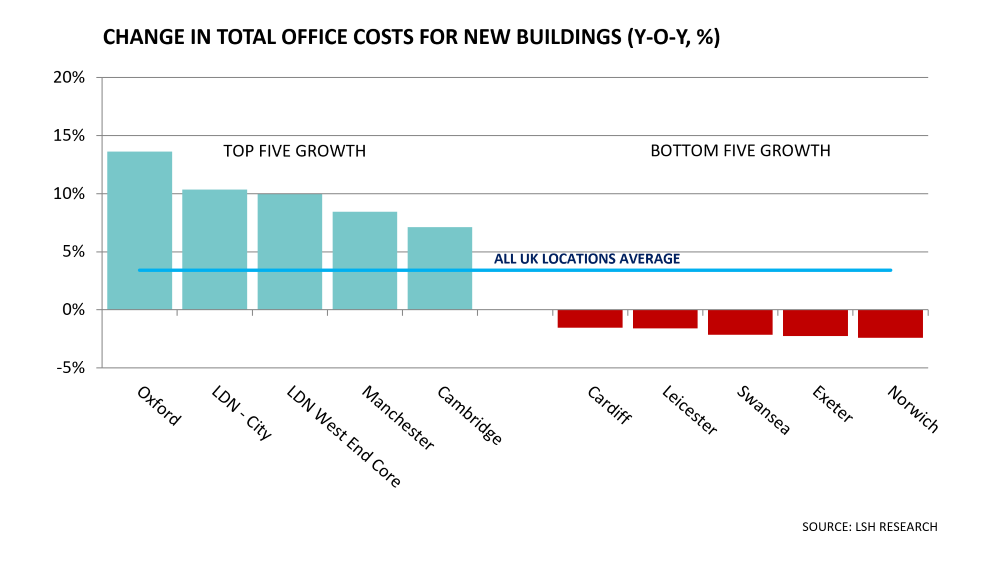 Implications for office occupiers
Ongoing high inflation and volatility in energy markets have added to an already challenging environment for office occupiers, many of whom continue to grapple with persistently low rates of staff attendance in the wake of the pandemic.
In a bid to drive greater efficiencies, logic dictates that increasing costs will prompt an ever greater number of businesses to rethink their office space requirements, with a view to exchanging quantity for quality. With regard to office space, quality spans a range of attributes, including location, on-site amenity, internal character and environmental credentials.
The higher energy costs observed for older, less environmentally efficient buildings alongside growing business demand to demonstrate ESG commitments only strengthens the case for seeking out better quality space.
TOCS 2023
Explore costs in your area
View full office occupancy costs across the UK and assess how these differ by location and sector across new and 20-year-old buildings on a per sq ft and employee basis.
Explore costs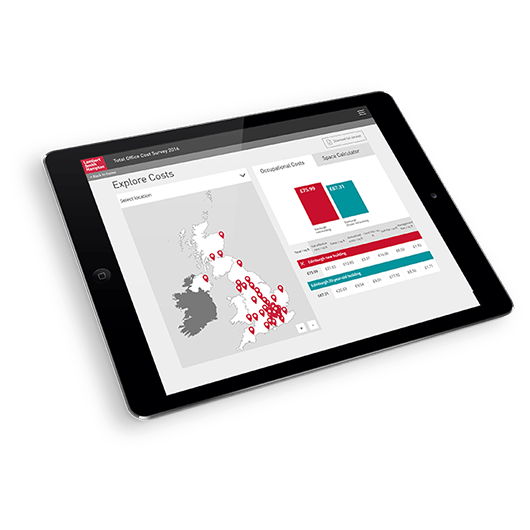 Get in touch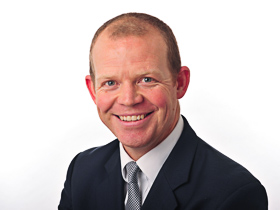 Ryan Dean
Executive Director - Head of Transactional Services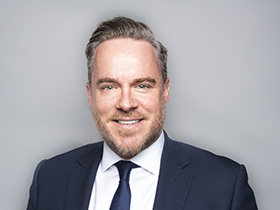 Matthew Walker
Senior Director - National Head of Facilities Management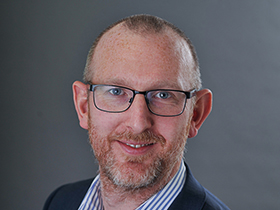 Oliver du Sautoy
Head of Research
REGISTER FOR UPDATES
Get the latest insight, event invites and commercial properties by email