Following an extended period of uncertainty, 2022 looks set to be the year in which the South East office market finally stabilises and returns to more regular patterns of leasing activity, our latest research reveals.
Despite the extended work from home directives during 2021, office leasing activity proved resilient with the South East market recording a 42% increase in take-up (to 3.4 million sq ft), placing it just 5% below the five-year average. With relatively low availability in most key markets, 2022 is predicted to see further significant growth in take up as many occupiers slowly migrate back to the office.

The resulting flight to quality is seeing best rents being achieved across the South East, with a number of locations breaking through the £40 per sq ft prime headline rent hurdle.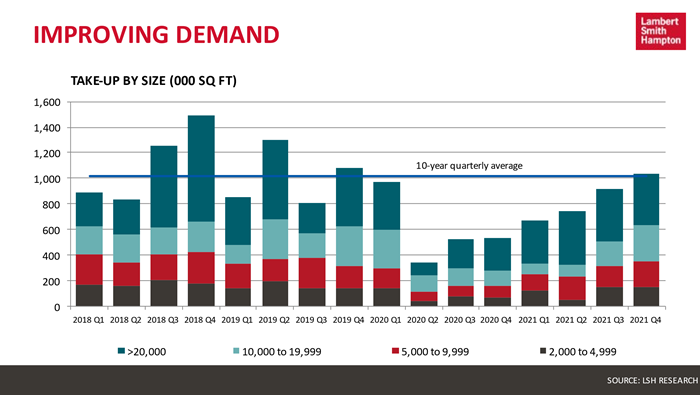 Although availability has risen to 16 million sq ft with new stock coming on stream, it still remains 4 million sq ft below the previous peak in 2011.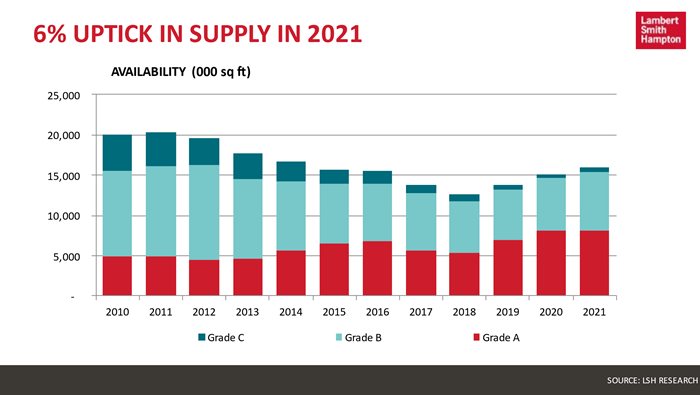 Ryan Dean, National Head of Office Advisory at Lambert Smith Hampton (LSH), said:
"Having muddled along for the past two years, bigger corporates are starting to get serious about their occupational strategies and accommodation requirements. This year will see occupiers get off the fence and make long-term decisions about what space they need, and where. Though the evolving hybrid model is likely to take many forms, it will certainly accelerate transactions."

In anticipation of increased demand for strategic leasing advice from both landlords and occupiers, LSH has increased the scope and reach of its South East office agency team. This new agency model will move to a "hub and spoke" structure operating out of principal hubs in Reading and London with specialists based across a network of offices in Oxford, Milton Keynes, Maidenhead, Guildford and Southampton.

South East office agency is a strategic growth area for LSH and the firm is seeking to expand both its regional footprint and headcount over the coming 12 months.

Ezra Nahome, Chief Executive at LSH, added:
"The evolving nature of the office market demands a fresh approach to properly serve the needs of both occupiers and investors. The way we use offices has changed irrevocably and the most progressive occupiers and landlords have already acknowledged this. In order to remain relevant, the agency community also needs to recognise this and respond with solutions that utilise genuine expertise to add value."

LSH's South East 17-strong offices team acts on behalf of occupiers including BBC, Babcock and Axa and is mandated on schemes such as Oxford Science Park, Harwell Science Park, Here + Now Reading, Lakeside Portsmouth and The Charter Building, Uxbridge.
REGISTER FOR UPDATES
Get the latest insight, event invites and commercial properties by email