The Edinburgh office market has rebounded strongly in Q2 of 2021 with property consultancy Lambert Smith Hampton (LSH) at the forefront advising on two out of the three largest lettings in addition to securing the largest lease renewal in the second quarter.
With confidence returning to the market, new office take-up totalled 181,630 sq ft, an increase of 98% on Q1 and a staggering 573% increase on the same period last year. The city centre office market in particular was the focus of attention for occupiers with 160,088 sq ft transacted, accounting for 88% of total transactions.
Transactional volumes over the quarter also saw a significant increase with 43 new office lettings occurring which represented a 53% increase on Q1 and a 291% rise on the same period last year. In addition, there were just 5 new lettings over 5,000 sq ft totalling 92,758 sq ft accounting for 51% of the market, an indication perhaps of changing occupier requirements in a post-pandemic world.
While city centre activity dominated the Q2 landscape, the out-of-town market continued to struggle with just 21,542 sq ft transacted across 5 deals. With the out-of-town market struggling, the city centre market saw strong levels of activity across multiple sectors ranging from finance, technology and healthcare, through to professional services and not-for-profit organisations.
Edinburgh city centre saw a number of notable, large transactions including the Nursing & Midwifery Council acquiring 11,353 sq ft at 10 George Street and X Design acquiring 7,251 sq ft at The Stamp Office on Waterloo Place, both of which were conducted by LSH. An assignation of Baillie Gifford's lease to a confidential occupier also occurred at 20 West Register Street totalling 61,237 sq ft.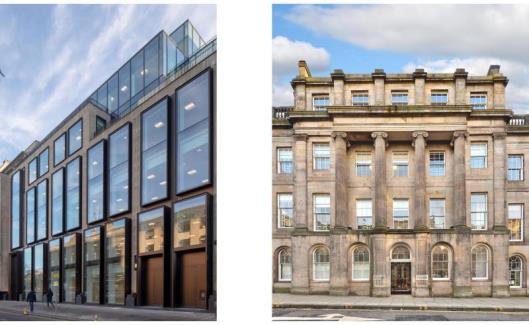 (L-R: 10 George Street, Edinburgh & The Stamp Office, Edinburgh)
Lease renewal activity was also prevalent across the city totalling 57,959 sq ft reinforcing the case for offices and Edinburgh as a best in class destination as we emerge from the pandemic. Furthermore, the largest lease renewal in the city was conducted by LSH with ST Microelectronics renewing 21,530 sq ft at Tanfield in Canonmills.

(Tanfield in Canonmills, Edinburgh)
Geoff Scott, Director of Office Agency for Lambert Smith Hampton in Edinburgh commented:
"After a pretty torrid 18 months, it's fantastic to see both the number and size of deals return to something more resembling normality. Unsurprisingly, the best located and specified buildings have performed well with 10 George Street and 20 West Register Street securing the majority of new Grade A occupier requirements."
"City centre supply remains constricted and there is strong interest in developments under construction. Peripheral markets have however continued to perform below par with limited activity in West Edinburgh where there is plentiful supply of both existing and new stock coming forward this year and next".
"Occupiers are concerned about the quality of the environment, with the office as a destination and focus, a place staff want and need to be whilst embracing a flexible model of working. Sustainability credentials and the ability of the environment to deliver the recommended amount of fresh air are also high on the agenda."
LSH were delighted to advise their clients on two of the top three largest lettings; namely Nursing & Midwifery Council on their acquisition of 10 George Street and Senvion on the disposal of their lease at the Stamp Office on Waterloo Place.
As well as advising on two of the three largest lettings, LSH also advised ST Microelectronics on the largest lease renewal at Tanfield together with a number of other notable office transactions including lettings to Incentive Games at 45 Frederick Street, Reed in Partnership at 4 Queen Street and Civerinos at 112 George Street.
For a detailed overview on the Edinburgh office market please contact gscott@lsh.co.uk.
REGISTER FOR UPDATES
Get the latest insight, event invites and commercial properties by email