What is your role at LSH?
I'm a Director and the Regional Head of Building Consultancy for Wales and the South West, primarily based in Cardiff, but also covering the Swansea, Bristol and Exeter offices.
Where did your career begin?
I have had an interest in the built environment from an early age. My father had his own construction company in Wales so l served an early apprenticeship over many a school holiday. While labouring during a particularly cold and wet winter however, I decided I was more suited to an office job!
In 1997, with a Building Surveying degree from the University of the West of England, I headed back to Wales to join independent property consultancy Tuffin Ferraby Taylor (TFT) at its Cardiff office. Within five years I had qualified as a Chartered Surveyor.
My 20-year stint at TFT saw me progress through the ranks to Associate and I gained valuable experience in all aspects of building and project consultancy, working with a range of regional and national clients throughout the UK and Europe.
In 2014 I joined multi-disciplinary practice, Alder King, where I headed-up its Building and Project Consultancy team in Wales. It broadened my understanding of other aspects of commercial property transactions, management as well as the importance of working with the various disciplines and service lines within the business. I also had the opportunity to develop key contacts within the banking and public sector; useful relationships particularly during a difficult property market.
I see my move to LSH as an excellent opportunity to engage with national client contacts both old and new, whilst at the same time promoting our ability to understand the demands of a regional market. The challenge of managing and developing our service offer over a wider region really excites me and I look forward to working with my colleagues to move the business forward.
What do you enjoy most about working in property?
I really enjoy the variety of the industry. All buildings and clients are different and demand a tailored approach. The opportunity to get an understanding as to a building's construction and learning how a client wishes to acquire, occupy or even dispose of it is particularly rewarding.
Developing and sustaining good working relationships are at the core of our industry. Modern technology is making our marketplace smaller and contacts more accessible, however getting face-to-face with people and knowing what is important to them and their business is far more effective and rewarding than communicating by email.
What emerging issues do you see as critical to the sector?
The lack of stock in the office sector across the region combined with the influx of student residence conversions has reduced the volume of new tenancies and refurbishment opportunities. But conversely, landlords are beginning to see the opportunity of achieving increased rental levels, by retaining tenants on the back of high-quality refurbishments.
Recruitment is a problem within the property industry, particularly in the regions. Graduate numbers have reduced in recent years owing to the financial downturn coupled with the expansion and growing appeal of the creative sectors which is spreading the net of good quality surveyors much wider. I therefore feel now is the time to take good care of our staff. Employers and the governing bodies have a responsibility to make the property industry attractive again.
Tell us something your clients might not know about you
As a father to two young children, most of my time seems to be taken up driving 'Dad's Taxi'. When I do get some free time, I enjoy getting out onto the golf course, walking our dog and more recently have completed a number of half marathons. If the kids allow me some training time, I'm hoping to complete a full marathon next year!
Get in touch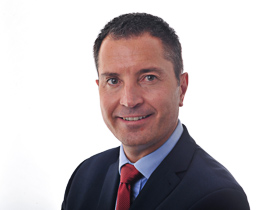 Simon Lewis
Director & Head of Building Consultancy - Wales & South West
REGISTER FOR UPDATES
Get the latest insight, event invites and commercial properties by email