Rio & Brazil has taken over a 3,200 sq ft two story unit on the ground floor, opposite the ionic yellow Jaffe Fountain and Kitchen Bar.
The new store is set to open in August, with 14 staff.
Rio & Brazil first opened its doors 40 years ago in Bradbury Place Belfast, soon followed by two further stores in Donegal Arcade and then to its current store on Wellington Place. The boutique is famous for its exclusive clothing lines for men and women.
Victoria Square will benefit from the introduction of 10 unique brands that are exclusive to Rio & Brazil for Northern Ireland. Shoppers will avail of over 44 new brands not yet represented in Victoria Square. Some of these unique global fashion lines include: Circle of Gentlemen, Farah Vintage, Matchless London, Save The Queen, Pom Amsterdam and Ana Alcazar.
Steven Simpson, Owner of Rio & Brazil said: "My father opened our first store 40 years ago making us now one of the longest running independent fashion boutiques in Belfast. We are grateful to all our customers who have supported us over the years, as they've continued to shop with us through each of our relocations. Our continued evolution and introduction of unique premium products, over recent years, has now set us apart from high street stores. We are very excited about the move and are looking forward to our new convenient setting in Northern Ireland's most prestigious shopping centre, Victoria Square.
"The business has traded strongly over the last few years, especially with the introduction and success of our online store, MrandMrsStitch.com, and we felt now was the right time to move to a bigger premises. Our new unit is 25 percent bigger than our current store and is situated at the main Victoria Street entrance, with prominent on street windows. This store will give us a bigger presence, allowing us to carry more labels and offer our consumers a bigger choice."
He added: "The high footfall and location of the unit in Victoria Square presented us with an opportunity to grow the business. The centre has high visibility and attracts a lot of international customers. We've secured 44 new brands which are unique to Victoria Square and we are proud to be able to bring our unique shopping experience to a wider audience."
Commercial property agency Lambert Smith Hampton acted on behalf of Victoria Square to secure the new tenant.
Gary Martin, Associate Director of Retail Agency at Lambert Smith Hampton commented: "We are delighted to have been able to bring Rio & Brazil to Victoria Square. The owner's decision to invest in a new store in Victoria Square, is testament to the strength of the scheme as the top retail destination in Northern Ireland. We're confident Rio & Brazil will add to the already diverse retail offering in the centre and be a huge hit with consumers."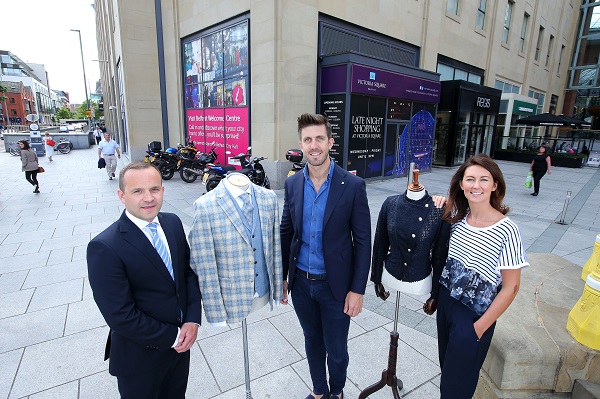 Pictured (l-r) outside the new Rio & Brazil unit in Victoria Square are Gary Martin, Associate Director of Retail Agency at Lambert Smith Hampton with Steven and Jeane Simpson, Owners of Rio & Brazil.
REGISTER FOR UPDATES
Get the latest insight, event invites and commercial properties by email