Context
The subject site extends to approximately 900 sq m, with the existing building comprising of a two-storey commercial building containing four mixed-use units.
Due to the site's location within Dalton Lane (west) Conservation Area, challenges arose in determining the appropriate balance between promoting the optimal scheme whilst also respecting the space and other nearby heritage assets.
The proposed development would result in the loss of commercial floor space, which our client intended to replace with hotel floor space. Hackney Council explained that there was an over-concentration of hotel floor space development constructed and approved in the borough.
We were instructed by Legacy Holdings Dalston Ltd to enter into a formal pre-application engagement with Hackney Council to discuss development proposals and subsequently, to submit the planning application to secure consent.
Our Approach
We engaged in two formal rounds of pre-application engagement with Hackney Council's Planning Service to understand the hotel supply issues and to refine the development proposal in terms of design and conservation area settings.
Our team produced a Hotel Market Assessment report which demonstrated that the suggested over-concentration of constructed and approved hotel developments were actually located within a very specific and small area of the borough, meaning that the justifications for developing a hotel at Dalston were acceptable.
We managed the entire planning process, working with the client's architect and Hackney Council to deliver suitable planning permission, satisfying the client's aspirations to optimise the site in terms of development density and the mix of uses.
The Results
We secured consent to demolish existing buildings within the Conservation Area, to make way for development described as 'the erection of a new part 6, part 7 storey building to provide C1 (Hotel) accommodation, with Sky bar / restaurant at 6th floor roof terrace level and basement nightclub.'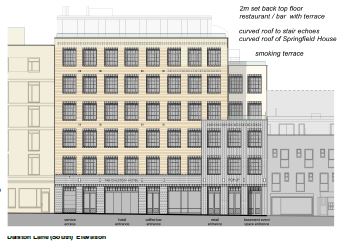 REGISTER FOR UPDATES
Get the latest insight, event invites and commercial properties by email