Occupier market
While Brexit uncertainty rumbled throughout 2019, the larger end of the occupier market performed in resilient fashion, most notably the mid box segment. Developers were not put off by the uncertainty, delivering record volumes of spec space into the larger end of the market.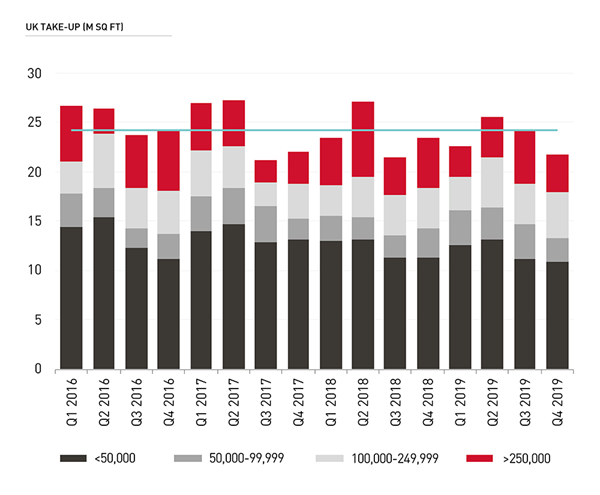 Mid box strikes back
Looking across all size-bands in aggregate, UK-wide take-up was a resilient if unspectacular 94.1m sq ft in 2019, only 1% below 2018's volume and 2% short of the five-year annual average.
The ebb and flow of political uncertainty appeared to influence activity over the course of 2019. Brexit's initial extension from last March to the year end was followed by strong above trend take-up in the middle part of 2019, before falling away again in the final quarter as Brexit uncertainty ramped up to a crescendo of a December general election.
2019 also saw a notable reversal of fortunes between the size-bands. Having been the star performer in 2018, big box take-up slipped to 33.6m sq ft, down 8% year-on-year but nonetheless 2% ahead of the annual average. While build to suit activity dropped 20% from its record level in 2018, take-up of new spec and refurbished big boxes was just shy of 2015's record.
Notably, the reverse was true of mid box. At 12.7m sq ft, mid box take-up rebounded by 25% on 2018's subdued level and was comfortably above the five-year average. Reflecting strong demand for quality in this segment, this was driven by a considerable rise in grade A take-up, with build to suit take-up almost doubling to a seven-year high of 1.2m sq ft.
Activity in the small and medium segment, which typically accounts for the lion's share of UK take-up, was broadly in line with 2018 but 6% below the five-year average. The weaker relative performance of the backbone of the industrial market relative to the larger segments largely reflects an acute lack of choice in many parts of the UK.
Hit and miss across the regions
Eight of the eleven UK regions saw below trend take-up in 2019, although the East Midlands and the South East enjoyed record take-up. Their success was in part due to especially large deals by online retail giant Amazon, whose activity is often linked to strong regional performance. The East Midlands also owed its record to JLR's 2.9m sq ft deal in Leicestershire, the largest transaction ever recorded.
In contrast, the North East stood out as the UK's worst performing region in 2019. Following record breaking activity in 2018, take-up in the North East slumped by 65% year-on-year to a record low of 2.7m sq ft. The North West also had little to celebrate in 2019, with take-up falling below 10m sq ft for the first time in over a decade.
Despite most regions seeing below trend activity across all size-bands combined, some parts of the UK managed to buck the national trend in certain aspects. Mid box take-up also increased in eight of the eleven regions year-on-year while, in the small and medium sized-segments, Wales and the South West were the notable performers, achieving 15% and 12% respectively above the five-year average.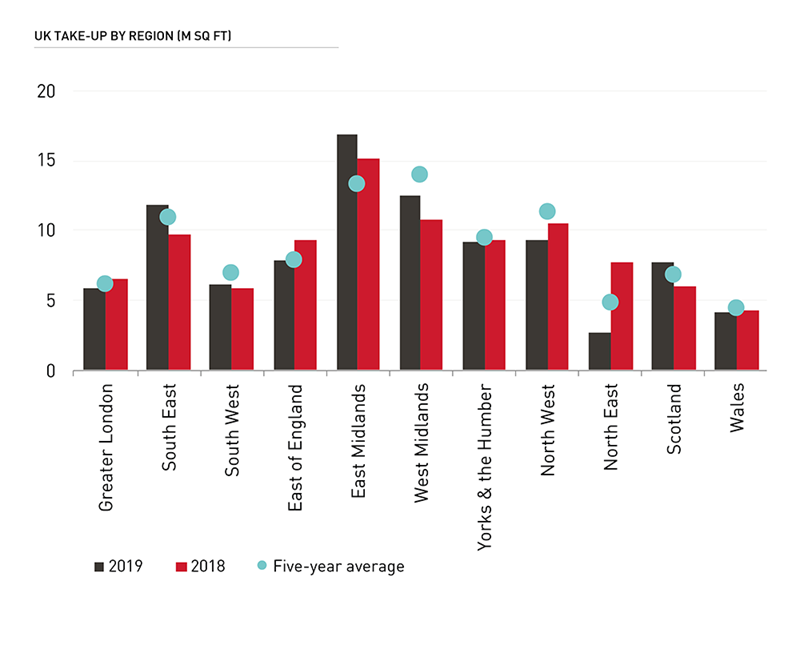 Development boosts shed supply
Despite a sustained development response in recent years, UK supply has fallen consistently over the past decade. At the end of 2019, total industrial supply amounted to 150m sq ft, edging down by 3% from 2018 and standing a massive 59% below its peak in 2010. The UK availability rate edged down to a new all-time low of 4.3% at the end of 2019.
However, the ebbing of overall supply has been largely driven by falls in the smaller end of the market. Despite improving levels of development activity for smaller units for the past five years, it pales in comparison with the larger end of the market. Alongside pressure from alternative uses, the small and medium sized-segment endured yet another fall in supply in 2019, with UK-wide availability equating to only 1.4 years of average take-up.
In contrast, a run of speculative development in the mid box and big box sectors has fuelled a much-needed increase in grade A supply. At the end of 2019, a record 10.8m sq ft of development was underway in unit sizes of over 50,000 sq ft, and the total volume of new build availability is now 24.8m sq ft, the highest since Q2 2009.
Supply in the big box segment increased by 8% during 2019 to stand at 55.2m sq ft, its highest level since 2013. While a wave of new spec completions drove the increase, notably, it was also fuelled by increasing levels of second hand stock to the market. Meanwhile, despite a healthy development response, mid box saw a 14% fall in overall supply, driven by a dramatic 21% fall in second hand space.
Supply doubles in the East
While supply remains tight from a UK perspective, a number of regions now offer much greater choice, particularly in big box and mid box. Supply picked up in four UK regions during 2019, albeit this was most apparent in the East of England, where supply levels doubled on 2018, the sharpest year-on-year increase seen in any region since 2010.
Despite strong levels of new speculative development in Greater London and the West Midlands, supply has continued to fall. Greater London recorded the greatest annual fall in supply volumes in the UK, falling by 25% year-on-year across all size-bands and is the tightest supplied region relative to average take-up in both the mid box and big box segments.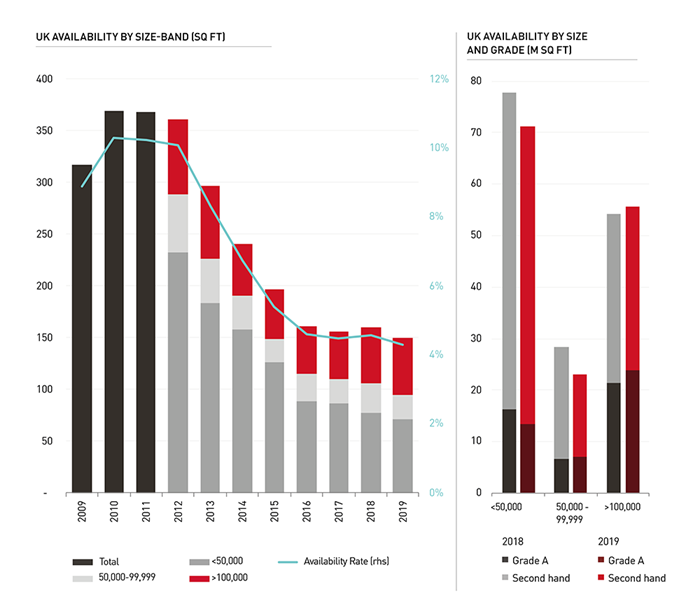 Rental growth charges on
Upward pressure on rental levels was sustained throughout much of the UK during 2019. For 20,000 sq ft units, average UK rental growth for prime stock accelerated to 6.1% in 2019. Notably, for the first time in seven years, prime rental growth outperformed secondary, which saw an average increase of 2.9% and suggestive of some of the heat starting to come out the market.
Rental growth varied considerably between locations and size-bands, with growth tending to be most marked in eastern locations. At the smaller end of the market, St Albans, Watford, Park Royal, and Lincoln all saw growth in excess of 20% during 2019. Luton led with growth of 29% in 2019, reflecting the delivery of much-needed new stock to the market to meet demand.
Prime rental growth in the big box segment was even stronger, averaging 5.8% across the UK for 100,000 sq ft units in 2019. Reflecting pent up demand for newly delivered units, Luton recorded the strongest prime rental growth of any location, rising 26% year-on-year to £9.75 per sq ft.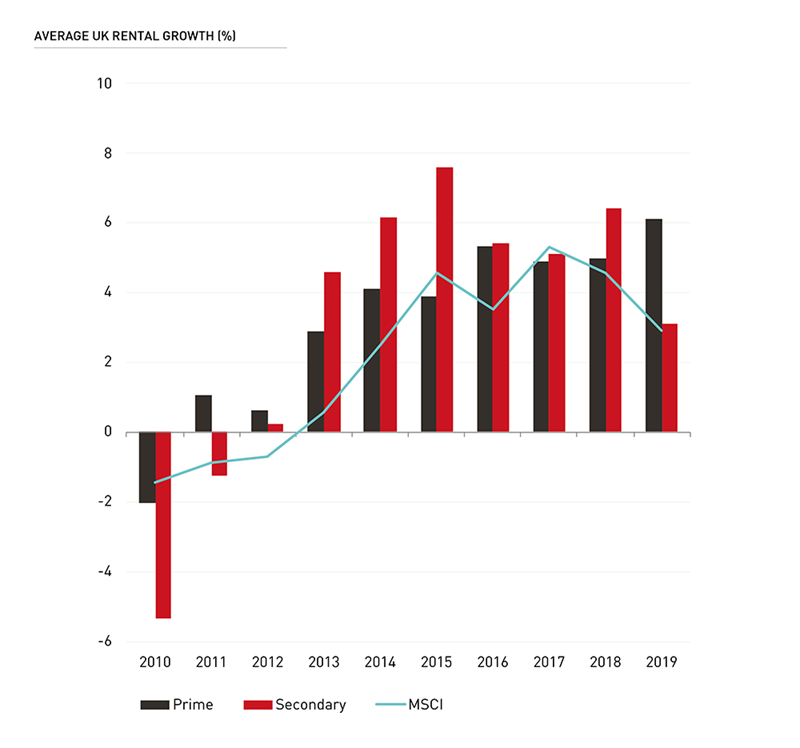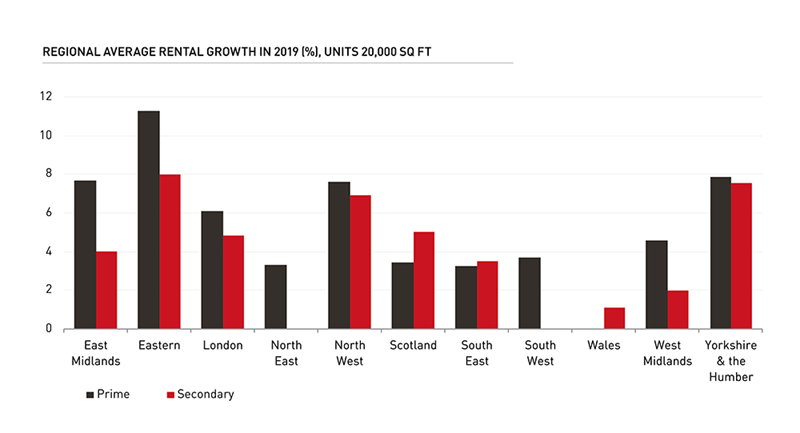 MARKET Insight
Industrial & Logistics Market 2020
Get the full version of our market leading report.
Download PDF