Occupier market
Accelerated structural change arising from the pandemic and the drive to build more resilient, future-proofed supply chains resonated throughout the UK industrial and logistics sector in 2021. And, while a huge weight of money is targeting the sector, supply is struggling to keep pace with demand.
RECORDS SMASHED
Records are proving short-lived in the booming UK industrial and logistics market. Take-up hit a spectacular 78.0m sq ft in 2021, surpassing 2020's previous high by a massive 29%. While activity was strong throughout 2021, Q2 really stood out with stratospheric take-up of 24.7m sq ft fuelled by a wave of large format deals.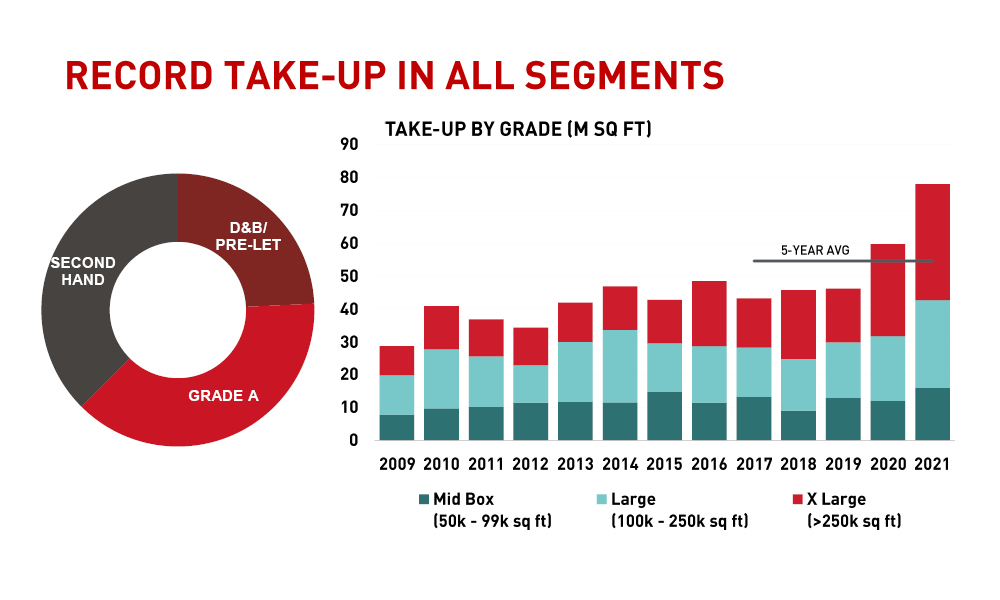 2021 was also exceptional for the sheer depth of activity, with take-up comprising 485 deals compared with 358 in 2020. All three of the size-segments boasted record take-up; XL was the star performer against trend, with take-up standing 43% above average, while large unit take-up saw the sharpest growth year-on-year, rising 36%.
ALL ABOUT AMAZON?
Retail and wholesale continued to drive a commanding share of activity, as major players continued with their expansion plans and the strategic reorientation of their supply chains. Amazon blazed a trail yet again, behind 12.5m sq ft of take-up across 32 deals, three of which were 2m sq ft.
That said, strong activity across other sectors saw retail and wholesale's share of take-up fall slightly, down from 41% in 2020 to 39% in 2021. Distribution and 3PL occupiers were very busy, with take-up rising 26% year-onyear to 14.2m sq ft. This was boosted by an array of deals in the XL segment, including from the likes of CEVA, Eddie Stobart and XPO.
2021 also saw notable transactions from other types of occupiers. Reflecting the drive for enhanced IT infrastructure, data centre operators took 3m sq ft in 2021, which included the UK's largest ever data centre deal - Microsoft's 1m sq ft operation at Imperial Park, Newport. The year also saw brought news of the UK's first ever gigafactory, namely Britishvolt's 1.6m sq ft commitment at Blyth, Northumberland.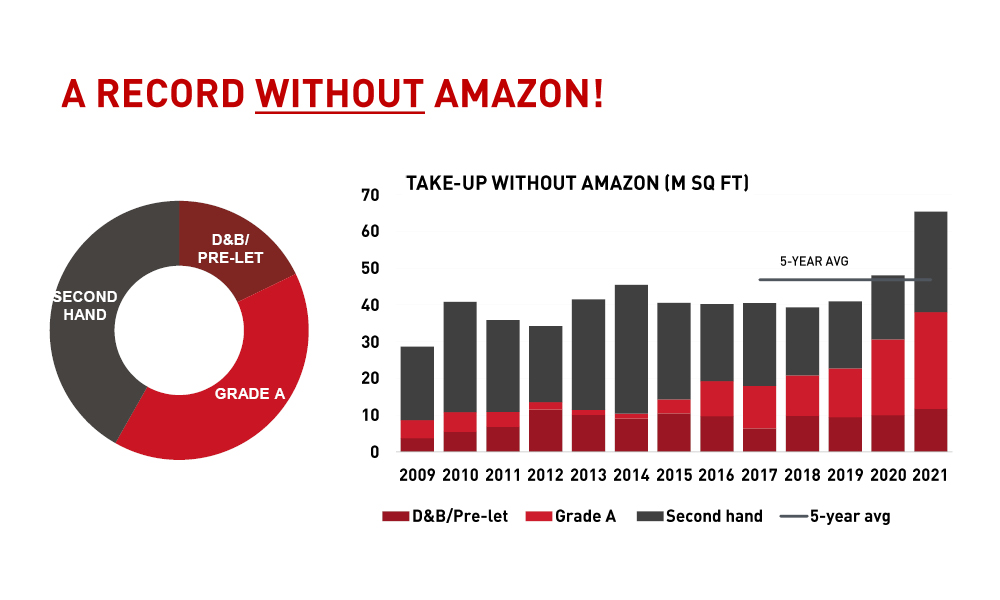 CLAMOURING FOR SPACE
Developers have been vindicated on their decisions to press ahead with speculative schemes, with 2021 showing exceptional activity for newly delivered product. While take-up of design and build space was broadly similar to 2020, take-up of up-andbuilt grade A space soared to 29m sq ft, 30% above 2020's level.
That said, grade A's share of 2020 take-up fell significantly compared with 2022, reflecting intense competition and a sense of urgency to secure readily available space, regardless of grade. This was especially true of the XL segment, where take-up of secondhand units increased by 88% year-on-year to 8.9m sq ft, while secondhand take-up in the large and mid box segments increased by 53% and 48% respectively.
REGIONAL RECORD-BREAKERS
Reflecting the strength and breadth of demand across the UK, five regions boasted record takeup in 2021, while ten out of the eleven regions saw take-up for the year above their respective five-year annual averages. The East Midlands took the leading share of UK activity in typical fashion, with record take-up of 16.6m sq ft, but the strongest performing regions against trend were the North East (+51%), Yorkshire and the Humber (+71%) and the North West (+86%).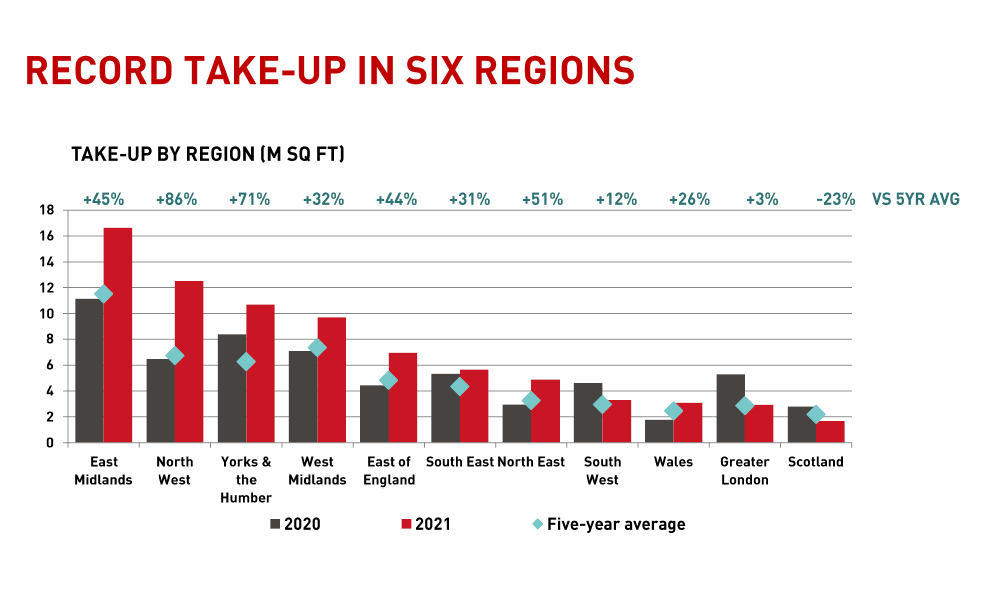 The nature of activity varied to some degree between regions. While Yorkshire and the Humber and the North East's exceptional 2021 was underpinned by mega deals, the North West saw considerable growth in all sizesegments. Meanwhile, Scotland was the only part of the UK to underperform against trend in 2021, recording its lowest take-up since 2018 and 23% below the annual average.
EPIC ABSORPTION
Despite a concerted development response, UK supply has fallen dramatically in the face of unprecedented levels of demand. Supply fell at the sharpest rate on record in 2021, dropping by 26% to a new all-time low of 52.3m sq ft. Across all segments combined, current UKwide supply is equivalent to only 1.0 years of average annual take-up.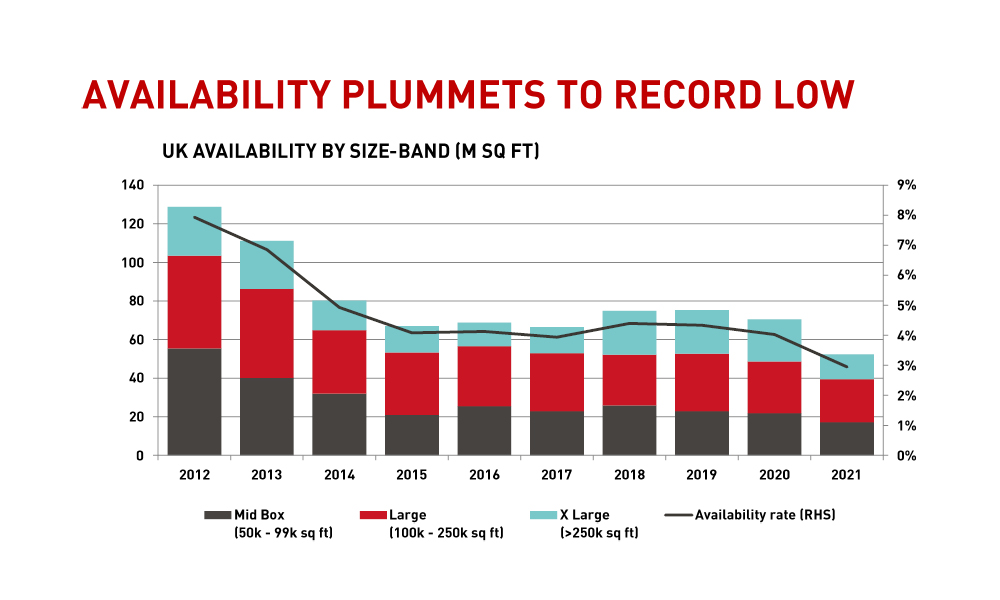 Each size segment recorded a marked fall in supply in 2021. The XL segment saw the strongest reduction, falling by 42% year-on-year to its lowest level since 2016, while large and mid box supply fell by 17% and 21% respectively to record lows. Notably, secondhand space felt the full force of strong absorption, most notably in the XL segment, where secondhand supply contracted by a massive 82% year-on-year to leave just 2.1m sq ft available.
SPEC-TACULAR
Despite challenges around build costs and delays in the planning process, developers are going to great lengths to capitalise on unparalleled levels of occupier demand. A burst of new development starts in Q4 2021 pushed total UK-wide speculative development under construction to a massive 20.7m sq ft, up 80% on the 2020's previous record and comprising 133 separate units.
The West and East Midlands provide the key focus of this development, with 5.2m sq ft and 4.2m sq ft under construction respectively, accounting for close to half the UK total. Developers are also increasingly comfortable with building ever larger units. Speculative development in the XL segment climbed by 161% year-on-year to 9.4m sq ft, accounting for 45% of the total.
SOUTH WEST IS THE UK OUTLIER
Amid falling overall supply, there were considerable regional variations. The East Midlands and the North West saw the sharpest falls in supply over the course of 2021, down 44% and 49% respectively to stand at new record lows. Moreover, such is the strength of demand that most of the supply in both of these regions is actually under construction and therefore not immediately available.
Only two UK regions – the South East and South West – saw increases in supply during the course of 2021, rising by 11% and 17% respectively and driven by substantial increases in large unit availability. However, while supply in the South East remains tight much like other UK regions, the South West is arguably the UK's only outlier, with supply equivalent to 2.0 years of average take-up, twice the UK's overall position.
RAPID RENT RISES
The relentless appetite for space was reflected in considerable upward pressure on rents throughout the UK market. 2021 saw - by a distance - the strongest annual rate of growth on record, with average prime rents for 50,000 sq ft units increasing by 15% year-on-year in Q4 2021. Reflecting the reduced supply for prime space and increased competition, rental growth for secondary units was a touch stronger, rising by 16% on average.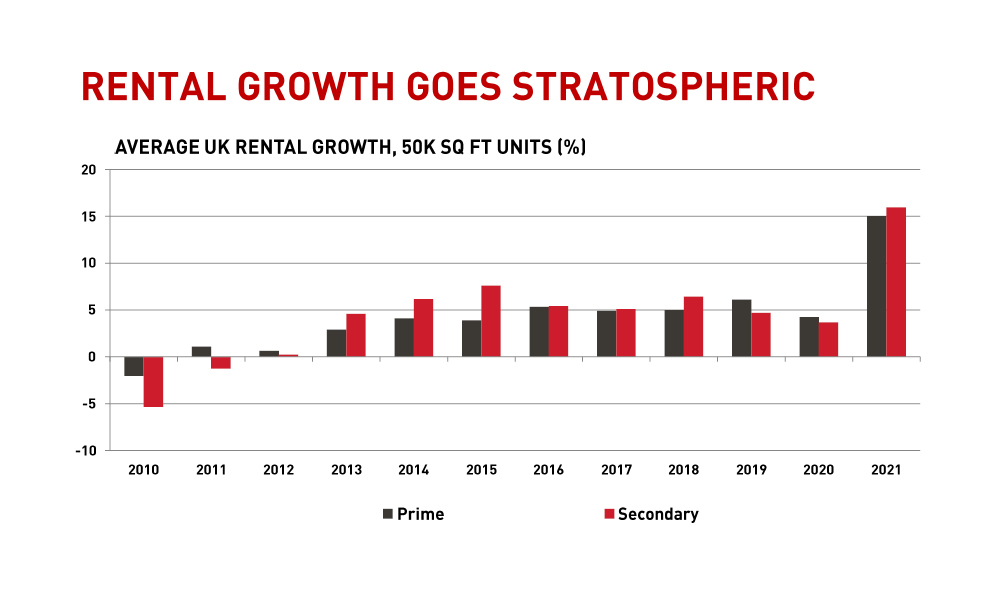 Rental growth nonetheless varied considerably across and within regions. At 30% and 25% respectively, Greater London and Wales recorded the strongest growth on average at the regional level. Within these regions, Barking and Dagenham (up 52%), Park Royal (up 53%) and Newport (up 44%) exhibited the most extreme growth of the key UK markets. Secondary rental growth was strongest in Greater London and the East Midlands, up 25% and 22% respectively.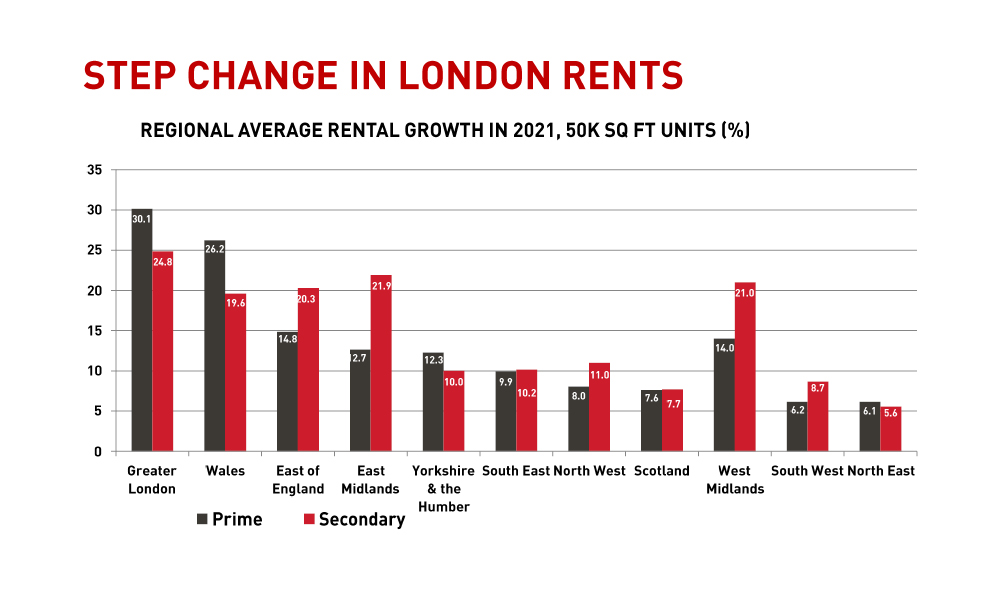 MARKET Insight
Industrial & Logistics Market 2022
Get the full version of our market leading report.
Download PDF