Investment market
While the phenomenal volume in the final quarter of 2020 is unlikely to be repeated any time soon, positive momentum has certainly continued into 2021. Ongoing voracious appetite from overseas buyers will drive volumes and further price rises in the distribution sector, while the gradual recovery of domestic buyers bodes well for improving activity in the multi-let arena later in the year.
Strong global investment appetite for secure income, and the relative value which still comes with the UK, will continue to drive activity in the UK distribution market into 2021. North American investors, so dominant in 2020, remain acquisitive as ever, while new entrants are expected to enter the fray from the Far East and even South America.
With demand for distribution so abundant, availability of stock is arguably the only limiting factor. But stock is continuing to flow. Many institutional investors are in selling mode, taking advantage of strong pricing and liquidity in a bid to bolster their cash positions, particularly those with a high exposure to retail. While the stock is out there, marketing is often quiet and targeted, reflecting the deep pool of suitable buyers for both prime and secondary value-add product.
The pandemic has fuelled a fresh bout of yield compression in the distribution sector, reflecting its resilience to the crisis and investors' heightened aversion to other property sectors. We expect further compression in 2021 with prime yields of 3.50% to 4.00% providing the 'new normal' on pricing, while the discount between forward fundings and up and built stock will continue to narrow.
Even if existing stock is difficult to source, recent evidence of yield compression alongside continuing rental growth will fuel appetite for more speculative development. A number of players in the market are armed with substantial overseas capital ready to be deployed, particularly from the US. While inherently more risky, substantial gains can be made if the right product is offered in the right location.
The contrastingly subdued year in the multi-let arena in 2020 reflected both the greater perceived risks around the smaller end of the market and weaker demand from domestic investors. With mass vaccinations providing light at the end of the tunnel, the reopening of the economy is expected to stir a recovery in appetite for multi-let product. The market should also benefit from a recovery of domestic demand later in the year as institutional investors get through the process of rebalancing their portfolios.
ACTIVITY
The resilience of the logistics sector through the pandemic was clearly reflected in the investment market. Total industrial volume was £6.9bn in 2020, the third highest annual total behind 2017 and 2018. However, this owed much to a phenomenal final quarter, with volume of £3.4bn in Q4 2020 smashing the previous record of £2.3bn set in Q4 2018.
2020's activity was also dominated by a record £5.5bn of investment into distribution warehouses, either as single-let assets or within portfolios. With lockdowns and restrictions entailing the closure of large parts of the economy, the fact distribution continued to operate - and played a crucial role in keeping consumers supplied with goods - only served to underline distribution's defensive qualities.
Distribution warehousing's position at the top of the core investor's wish list is clear in the wider context and reflects profound structural changes in retail. Distribution warehouses accounted for a record 23% of total volume across the three traditional core sectors (i.e. industrial, retail and offices) in 2020, up from 13% in 2019, having consistently made up only 4% to 6% of annual volume historically.
2020 was notable for the sheer scale of warehousing transactions. While 2019 was actually 'busier' from a deals done perspective, with 202 deals compared with 172 in 2020, last year's volume was fuelled by a record 20 portfolio deals. Blackstone was behind the two largest deals, purchasing the Platform Portfolio and the Algarve Portfolio in Q4 for a combined sum of £808m.
In stark contrast, the market was very subdued for smaller, multi-let product during 2020. Annual volume in this sub-sector sank to a record low of £1.4bn, far removed from the £4.8bn seen only two years previously in 2018. While distribution volume rebounded emphatically after the lockdown low of Q2, activity in this sub-sector of the market failed to show much of a recovery.
The divergence in activity between the subsectors reflects the greater perceived risks associated with the smaller market, with its occupier base being far more diverse and therefore potentially more exposed to the fallout of COVID-19 restrictions. That said, there was a notable contrast within the multi-let arena. The weakness in 2020 volume fell largely on the regions outside the wider south east, albeit the latter was boosted by two substantial purchases by SEGRO; namely Perivale Park, West London (£202m, NIY 3.10%) and Electra Park, Canning Town (£133m, NIY 2.58%).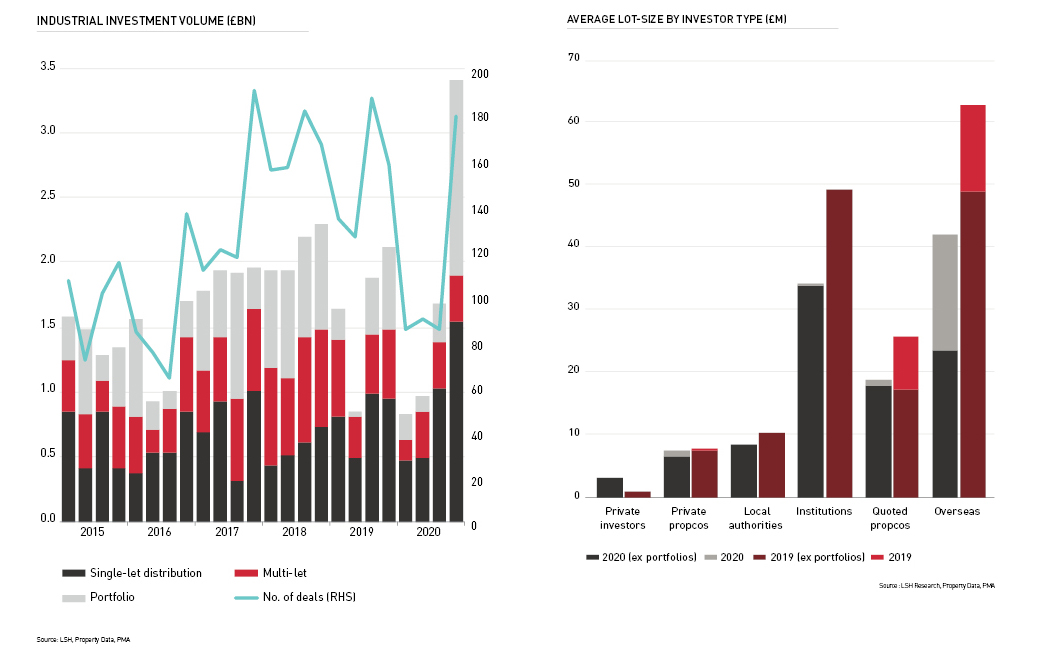 BUYERS AND SELLERS
Overseas investment in UK industrial and logistics climbed to a new high of £3.4bn in 2020, 56% above the previous record in 2019 and more than four times the annual average from the last 20 years. Evidently, the risks around securing a Brexit trade deal last year were more than offset by the positive fundamentals associated with the sector, with the current low yields still comparing relatively favourably with other markets in a global context.
Once again, overseas buyers dominated at the larger end of the market, behind six of 2020's ten largest deals. Overseas investment was itself dominated by North American buyers. Blackstone was prolific, deploying £1.3bn across 24 separate purchases, with other major purchases from Exeter, AimCo and Goldman Sachs also fuelling the record figure. But, a striking difference between 2020 and the previous year was the sheer depth of overseas demand, with the number of overseas purchases more than doubling to 73 separate transactions, involving 40 unique buyers and spanning the whole spectrum of lot-sizes.
In contrast, domestic investors were rather more inclined to sell than buy during 2020, with many crystalising substantial gains in the process. Across all domestic buyer-types combined, total volume of £3.7bn was the lowest annual total since 2012, with net selling for the year amounting to £1.3bn.
Despite the challenges of 2020, institutional volume recovered by 40% on 2019's level to £1.4bn, marginally above trend. 2020's headline institutional buy was LGIM's £202m forward purchase of Amazon's 2.3m sq ft operation in Swindon from Panattoni, the UK's largest ever deal for a single warehouse. Institutions were nonetheless net sellers of industrials to the tune of £472m, with active sellers including the likes of M&G, L&G and Aberdeen Standard.
Of the domestic investors, quoted propcos were the sole net buyers of industrial in 2020, at £480m for the year. At £1.0bn, investment from the UK REITs more than trebled from the low of 2019, a year which saw activity manifest itself more through corporate acquisitions than direct investment. SEGRO was behind the two largest REIT deals in 2020; the aforementioned Perivale Park and Electra Park, London. However, the most active REITs from a deals done perspective were Urban Logistics REIT and Stenprop, with 15 and 10 purchases in 2020 respectively.
The brief but notable spate of local authority buying came to abrupt halt in 2020, with volume of just £18m being a fraction of that seen over the preceding four years. This sharp drop off is directly linked with the increased scrutiny and restrictions on borrowing from the Public Loans and Works Board (PWLB) for property investing. The absence of local authorities will remove competition in the £5-20m lot size market, enabling other investors to secure product.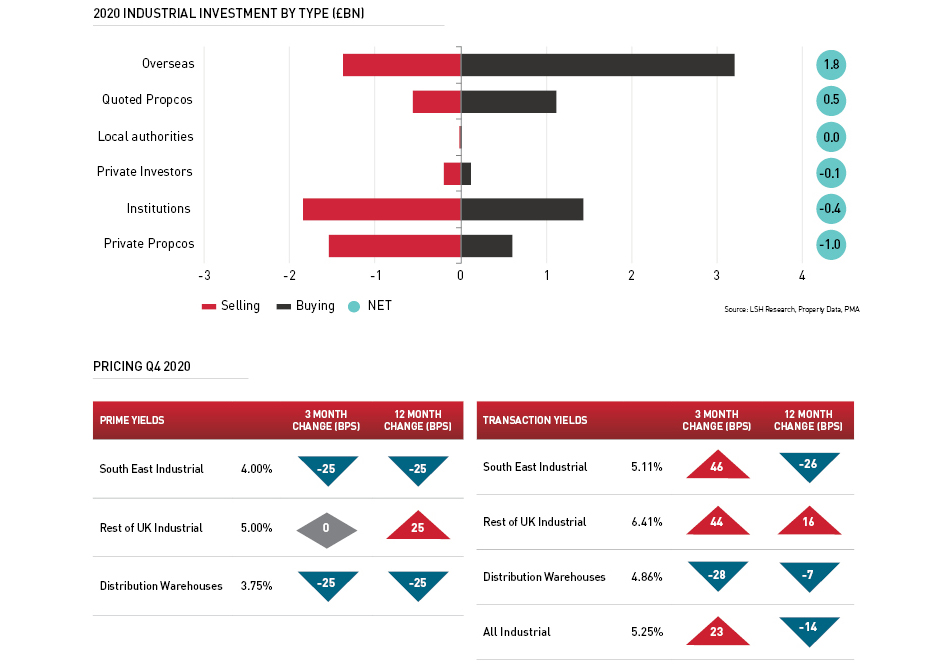 PRICING AND PERFORMANCE
The relative resilience of UK industrial & logistics throughout 2020 impacted positively on the sector's performance. While performance was hit during the height of the pandemic, unlike other sectors industrial rebounded emphatically by the end of the year. According to MSCI, UK industrial returns hit 6.4% in Q4 2020, the strongest quarterly outturn since Q4 2009 and significantly outperforming all other sectors of the market.
This late flourish confirmed industrial's place as the top performing UK asset class for a fifth successive year, with total returns of 9.2% for 2020 ahead of pre-pandemic expectations. While distribution warehouses dominated 2020 from a volumes perspective, performance was much more evenly balanced between the sub-sectors - both distribution warehouses and South East industrials recorded annual returns of 9.7%.
The resurgence of industrial returns was largely driven by a renewed bout of yield compression. While landlords in other sectors, most notably retail, have had to endure significant loss of rental income due to restrictions, the operational resilience of industrial has effectively added a new premium on the relative security of income the sector offers. This is especially true for distribution warehousing, where levels of rent collection were barely impacted, even at the height of the crisis in mid-2020.
Yields for prime long-leased distribution warehouses and prime South East multi-let estates moved in to new record lows at the end of 2020, hardening by 25 bps to 3.75% and 4.00% respectively. However, reflecting greater perceptions of risk, sentiment is rather less sanguine towards prime estates in the UK regions, with prime yields softening by 25bps to 5.00% during 2020 and remaining at this level.
The UK average All Industrial transaction yield was 5.25% at the end of 2020, a substantial 250bps below that of retail warehousing. With retail historically commanding an average 80bps premium over industrial, structural change in shopping patterns has turned the traditional pricing landscape on its head. Highly attractive pricing for essentially similar product is drawing in growing numbers of investors, with such sites offering opportunity to repurpose into other uses, including last mile fulfilment and trade counter.
Looking ahead, latest forecasts point to industrial continuing to outperform the wider market over the medium term, albeit to a more modest extent than in 2020. Latest independent forecasts reveal average annual industrial returns of 7.0% per annum over the period to 2025, compared with 5.6% per annum for All Property, led by London estates, with returns of 8.7% per annum.
Industrial's modest level of projected outperformance, certainly compared with the recent past, is largely based on ongoing rental growth. However, with many locations having already experienced significant growth over the last few years, future growth will be more geographically uneven and inconsistent. Strategies that can identify pockets of strong growth potential, in terms of both location and unit sizes, arguably have the best return prospects over the coming years.
MARKET Insight
Industrial & Logistics Market 2021
Get the full version of our market leading report.
Download PDF