Investment market
Amid a challenging year for the wider property market, the UK industrial sector performed well in comparison with other sectors in 2019. While investors have been made wary by the COVID-19 pandemic, the sector's defensive qualities will continue to attract demand, even if returns in 2020 will fall short of initial expectations.
The relief following December's decisive election result was palpable, with the clarity it afforded in the market helping to drive deals through in the final weeks of the year. At £2.1bn, industrial volume in the final quarter of 2019 was one of the strongest on record and gave more than an air of respectability to what would otherwise have been an unspectacular year.

Until recently, uncertainty around a Brexit trade deal was the main risk to the market, but this now pales in comparison with the more immediate impact of COVID-19. Chaos in the stock markets and economically damaging efforts to quell its spread have prompted governments to announce massive fiscal and monetary stimulus packages the world over.

It remains to be seen just how deeply the UK economy and occupier markets will be affected by measures to contain COVID-19, although cuts in interest rates and falls in bond yields the world over will refocus demand for secure income. In contrast, appetite for secondary assets will, understandably, take a significant short-term hit amid the challenges faced by the occupier market, although for some buyers this could represent a major buying opportunity when a sense of normality and growth returns to the wider economy.

Alongside the UK's established legal framework and market transparency, the currently highly favourable exchange rate and the relative value of UK industrial in a global context will continue to drive very strong overseas appetite for long-let, index-linked stock. Furthermore, as and when the crisis passes, we expect domestic investors and the key institutional buyers to become more active later in 2020, backed by a weight of money.

Initial forecasts for performance have been thrown into doubt due to the rapid escalation of the response to tackle COVID-19. While returns in the sector may fall far short of our latest forecasts, it is frankly too early at this stage to reassess the likely impact. That said, backed by strong fundamentals and structural change in retail, the sector is set to continue to outperform the UK's other key property sectors, albeit much more modestly. While short rental growth prospects will be curtailed in 2020, significant opportunity remains to add value and exploit gaps in the market when the economy moves into recovery.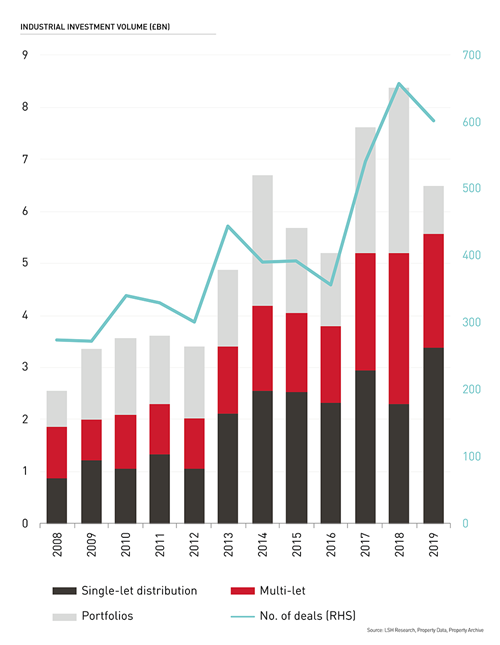 Activity
Amid a challenging year for the wider UK market, 2019 was another strong year for industrial and logistics volume, albeit boosted by a very strong final quarter. On face value, volume of £6.5bn for the year was only in line with the five-year annual average and was a far cry from 2018's record. However, this was entirely down to a very quiet year for portfolio deals, where volume of £910m in 2019 was 71% below 2018's record and the lowest since 2008.

The downturn in portfolio volume ultimately reflected a lack of stock, in particular major portfolio opportunities of the kind traded in previous years. Indeed, the major transfers of assets in 2019 were largely driven through corporate activity, including Tritax's £370m stake purchase of DB Symmetry, LondonMetric's £400m acquisition of Mucklow and Blackstone's £500m purchase of Hansteen. While not included in volume, the deals clearly underline the strength of demand for UK industrial assets at scale.

Despite lower volume in 2019, the market was certainly busy; 2019's volume comprised 602 separate deals, the second highest annual total on record and only 8% below 2018's high. Furthermore, single asset warehousing and distribution volume was a record £3.4bn in 2019, 15% ahead of 2017's previous high, while single asset volume in the multi-let arena was £2.2bn and comfortably above the five-year annual average.

Industrial and logistics' position at the top of the investor wish list is clear to see in the wider context and reflects profound structural change in the retail sector. Industrial accounted for a record 22% of total volume across the three traditional core sectors (i.e. retail and offices) in 2019, up from 21% in 2018, having consistently made up between 12% and 15% of volume historically.
Buyers and sellers
UK industrial and logistics is no longer the preserve of domestic investors it once was. Despite the domestic fixation with Brexit risks, 2019's volume was propped up by insatiable demand from all corners of the globe, with the current low yields in the sector still comparing relatively favourably with other markets in a global context.

Despite limited portfolio volume, overseas investment into UK industrial and logistics climbed to a record £2.6bn in 2019, 30% above 2018's previous high. Also, in contrast with 2018, overseas activity in 2019 involved a much wider pool of over 50 buyers, including the US, mainland Europe, South Africa, the Middle East and Far East. Relative ease of management continues to put the focus on the distribution sub-sector, accounting for 64% of overseas volume in 2019.

In contrasting fashion, domestic buying of industrial and logistics assets was subdued in 2019. Across all domestic buyer-types, total volume of £3.9bn was the lowest annual total since 2012. The institutions, normally the mainstay of industrial investment, purchased £1.5bn of industrial assets in 2019, 40% down on 2018 and the lowest in seven years. Many of the traditional institutional stalwarts were quiet by their own standards, linked to both high pricing levels in the sector and concerns among many of the UK funds over Brexit-driven redemptions.

The steepest year-on-year fall in industrial purchasing came from the quoted property companies. Following record volume of £1.7bn in 2018, quoted property companies purchased £568m of assets in 2019. Also, in the space of two years, quoted property companies went from the largest net buyers of industrial and logistics assets in 2017 to virtually zero net buying in 2019. However, quieter activity from the REITs and in particular Tritax BBOX following its 87% stake purchase in DB Symmetry largely explained this movement.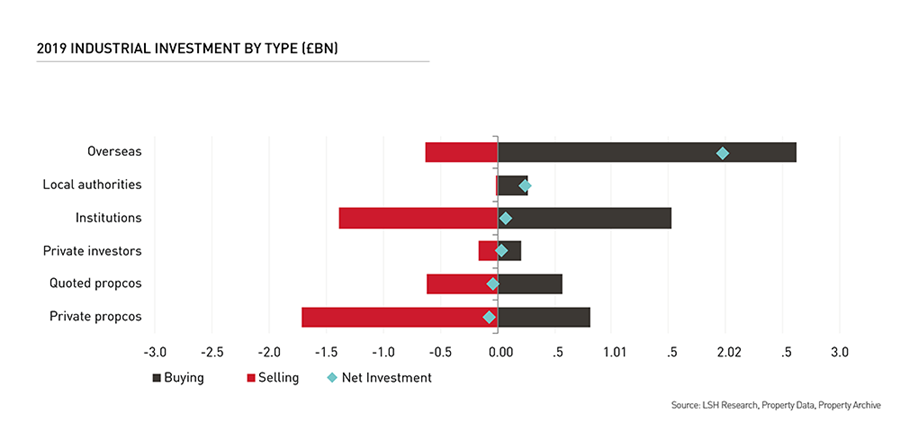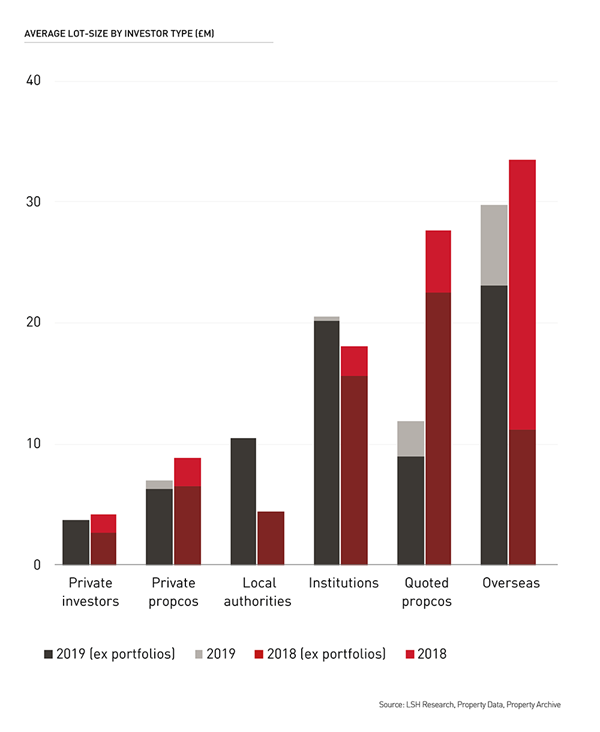 Pricing and performance
Capital value growth in the UK industrial sector eased down significantly in 2019, with the yield compression that drove returns in previous years having run its course. Nonetheless, UK industrial outperformed the core commercial sectors of the UK market for a fourth consecutive year in 2019.

According to the MSCI quarterly index, against an All Property return of 1.2%, UK Industrial returned 6.9% in 2019. South East Industrials continue to lead the market at the segment level, albeit to a much lesser degree than it had previously, recording returns of 7.6% for the year, down from 18.5% in 2018.

Prime yields have been broadly stable across the key industrial sub-sectors over the past two years. Pricing for prime long-leased distribution warehouses and South East multi-let estates moved in to a record low of 4.00% in 2018, and have stayed at this level ever since. However, December's decisive election result and the perpetuation of extremely low interest rates mean a degree of yield compression cannot be ruled out in 2020, albeit only for the most secure RPI-linked assets and driven by UK institutional and overseas demand.

The UK average All Industrial transaction yield dipped at 5.59% at the end of 2019, a substantial 130bps below that of retail. With retail historically commanding an average 80bps premium over industrial, structural change in shopping patterns has turned the traditional pricing landscape on its head. As already demonstrated by recent purchases from the likes of Argo, Prologis and Tritax, this is creating opportunities to repurpose suitably-located retail parks into trade counter / last mile fulfillment use, a trend that is expected to take hold in 2020.

With yield compression largely off the agenda, the outlook for returns has moderated from recent years. The sector is nonetheless forecast to outperform the wider market in 2020. Latest independent forecasts, which assume a Brexit trade deal is either agreed or delayed, reveal average annual industrial returns of 6.9% per annum over the period to 2024, compared with 6.1% for All Property.

Industrial's modest level of projected outperformance, certainly compared with the recent past, is entirely driven by ongoing rental growth feeding through. However, with many locations having already experienced growth over the last few years, future growth will be more geographically uneven and inconsistent. Income growth strategies that can identify further growth potential arguably have the best return prospects over the coming years.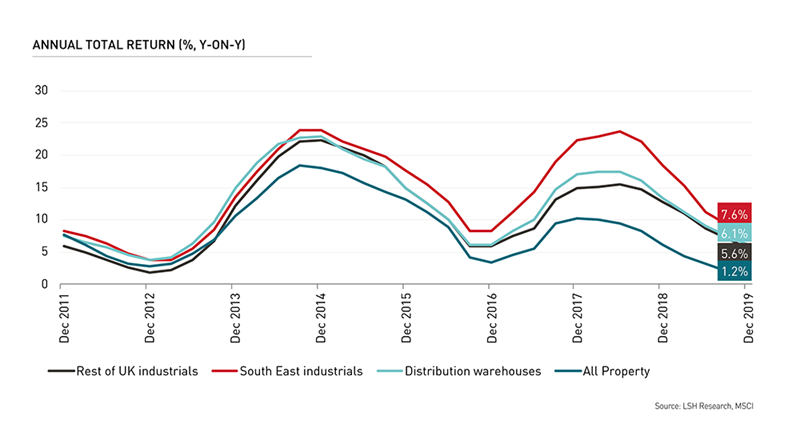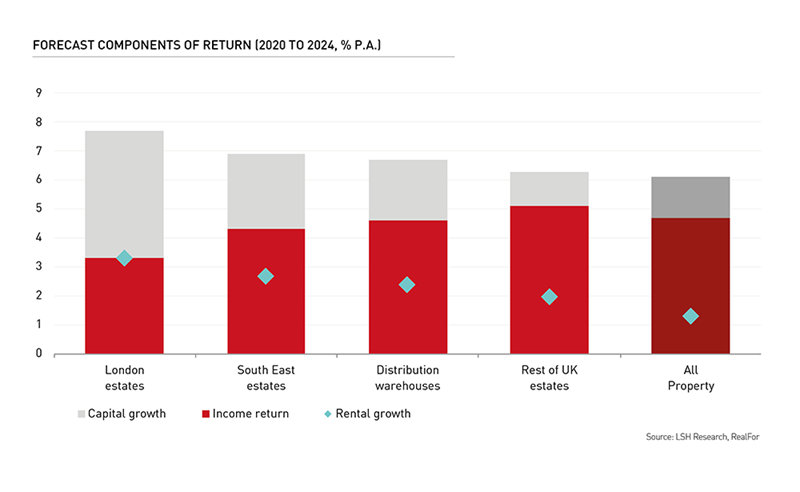 MARKET Insight
Industrial & Logistics Market 2020
Get the full version of our market leading report.
Download PDF