Summary and outlook
In what was a challenging year for the wider property market, UK Industrial & Logistics was remarkably resilient in 2019. Supported by positive fundamentals and structural change, the sector is well-placed to weather the storm posed by the COVID-19 pandemic relatively well and remain the asset class of choice once it passes.
Glass half full?
Assessing how the industrial and logistics market fared in 2019 depends on one's own perspective. Taking all size-bands into account, UK-wide take-up over the year was respectable, standing 2% below the five-year annual average. But, an ordinary-looking year is given much more credit when we consider the headwinds that buffeted the market, with Brexit and wider political uncertainty hardly conducive for business decision-making.
Other, structural, factors have bolstered activity. The larger segments of the market performed well in 2019, in large part reflecting the continuing drive among logistics operators, retailers and parcel carriers to meet ever growing consumer demands for online fulfillment. That said, though Amazon blazed a trail once again in 2019, big box take-up would have looked quite different had it not been for a manufacturer agreeing to the largest ever UK deal on record, JLR's 2.9m sq ft facility in Leicestershire.
Notably, the smaller end of the market performed less well and was the main drag on the overall picture, with take-up in 2019 falling 6% below the annual trend. Given the occupier base here is far more mixed across different industries and sectors, its weaker performance relative to the larger segments arguably better reflected the impact of all the uncertainty that characterised 2019.

Out of the frying pan…
Last December's decisive election result, and the clarity it provided over Brexit's direction of travel, was a real shot in the arm for market demand in the first weeks 2020. How quickly things have changed. The escalation of the COVID-19 outbreak from a worrying problem in the Far East to a global pandemic has turned the world upside down.
Amid drastic measures to contain the virus, the scale of disruption to businesses and people's daily lives is unparalleled with anything before. With large parts of the economy effectively shut down, a severe recession is now in no doubt and we can only hope at this point that growth will bounce back sharply once the worst of the crisis is over, and certainly by no later than early 2021.
Yet, unlike other sectors, the crisis is stimulating demand in parts of the industrial and logistics market. In response to changing consumer behavior, pure play retailers such as Amazon are stretching to cope with increased online ordering, while the major supermarkets are recruiting thousands of temporary staff, reoccupying surplus space and hunting out short-term space solutions.
Brexit has not gone away
Unhelpfully, the government's efforts to deal with the coronavirus have also coincided with the start of its negotiations with the EU on a post-Brexit trade deal. As expected, the opening stances of the UK and EU positions look difficult to reconcile, and it is likely that uncertainty and indecision among occupiers and investors will begin to ramp up once again if progress in the talks is not forthcoming.
A potential end to frictionless trade with the EU would have negative ramifications for the UK's logistics and manufacturing sector, certainly in the short term as occupiers adjust to the new status quo. However, a change to regulations is not a one way street. While some occupiers could opt to retreat or consolidate their operations back into European mainland, others could opt for a greater focus in the UK.
Regardless of Brexit, it is important not to lose sight of the fact that the UK is home to over 60 million plus. While the UK high street grapples with fundamental changes to shopping patterns, the growing challenges posed by ever more tech savvy and discerning UK consumers will continue to drive demand for logistics solutions.
Labour pains
The fact that the UK employment market was in such good shape - at least prior to the COVID-19 outbreak - has posed particular issues for occupiers in the sector. With the UK boasting essentially full employment, the days of easily tapping into large pools of inexpensive labour are long gone. Meanwhile, on the back of Brexit, the government's plans to limit low-paid EU workers to the UK from January 2021 may exacerbate the problems.
Granted, moves towards greater automation will mitigate some of the problem in future but, for the time-being, the sort of advanced facilities that capture public attention are few and far between. To help occupiers attract staff, some developers are leading the way in providing space which also boasts amenities and facilities, including everything from green spaces, to gyms and crèches. Increasingly, developers that opt not to 'go the extra mile' in this regard may end up paying the price.
Big box supply on the up
Development at the larger end of the market remained at full throttle in 2019, fuelled almost entirely by overseas, largely US, capital. At the end of 2019, a record 11.0m sq ft of space was speculatively under construction in units above 50,000 sq ft, up 12% from 2018's previous high. Development appetite has not waned in 2020; a number of notable spec schemes started in the first weeks of the year while LSH's industrial agency network collectively anticipates 7.1m sq ft as relatively certain to come forward speculatively during 2020.
While considerable development is replenishing supply levels at the larger end of the market, issues around management complexity, higher build costs and weaker covenants continue to act as a barrier to a meaningful supply response. Given that new small unit schemes are typically taken up well, this increasingly looks like a classic case of market failure. In bridging this gap, local authorities could play an important role, safe-guarding sites and using their own finance to develop new stock, and in the process generate income.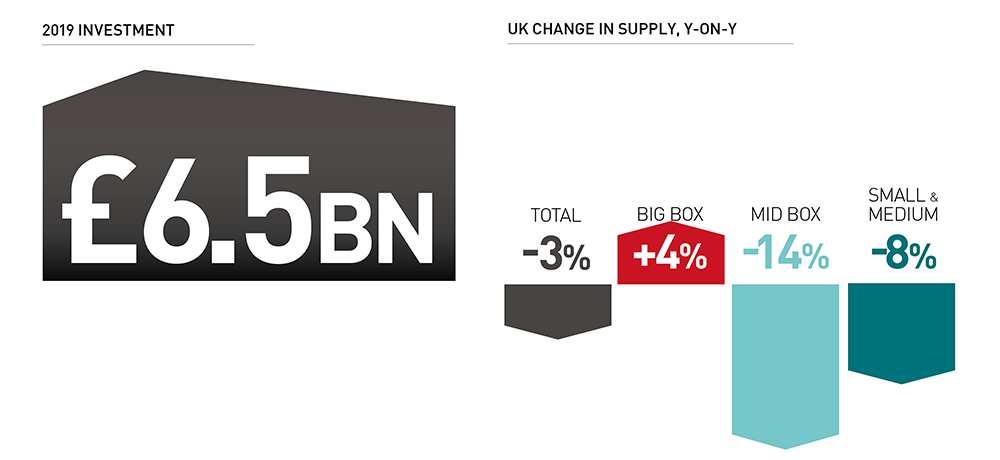 Still in vogue
Despite a very strong final quarter, 2019's £6.5bn of investment into UK industrial and logistics was only in line with the five-year annual average and a far cry from 2018's record. However, the market was nonetheless very busy, with a notable lack of major portfolio buying opportunities providing the main drag on an otherwise strong year of activity, which included a record £3.4bn of volume for single asset distribution warehouses.
Despite an easing in the rate of value growth, the sector outperformed the core commercial sectors of the UK market for a fourth consecutive year in 2019, with UK industrial returns of 6.9% compared with 1.2% for All Property. Latest independent forecasts, which assume a Brexit trade deal is either agreed or delayed, reveal average annual industrial returns of 6.9% per annum over the period to 2024, compared with 6.1% for All Property.
Performing under pressure
Prior to the fall-out from COVID-19, industrial was forecast to outperform other sectors of the property market once again in 2020, albeit to a marginal extent compared with previous years. While the return forecast for 2020 has undoubtedly been thrown into doubt by the crisis, the sector's defensive qualities are likely to continue to see it outperform other sectors of the market, even if capital values fall and rental growth is temporarily curtailed.
Indeed, at a time of such uncertainty, secure long-leased industrial stock may represent something of a safe haven for many investors, in the process preserving values for prime product. Moreover, while rental growth is likely to be curtailed in 2020, once the crisis passes, there will be continuing potential for growth in other emerging areas. This is especially true for smaller unit sizes, with growth fuelled by the drive for last mile fulfillment and the substitution effect arising from the demise of retail demand.
MARKET Insight
Industrial & Logistics Market 2020
Get the full version of our market leading report.
Download PDF