Economic backdrop
COUNTING THE COSTS
Just as the economic recovery was gaining momentum after the Omicron wave, a fresh burst of uncertainty arrives in the form of military conflict in Ukraine. While rising costs will impact consumers and occupiers alike, structural change will continue to underpin growth and activity in the industrial and logistics sector over the year ahead.
ECONOMIC RECOVERY RESUMES
UK GDP grew by 7.5% in 2021, after contracting by 9.4% in 2020. The Omicron wave had a relatively modest and short lived impact on activity in December into January 2022; but Purchasing Managers' Index (PMI) data indicates that the economy was resurgent in February following the easing of COVID restrictions, with the services sector making a particularly rapid rebound.
The economy should continue to grow over the coming months, although downside risks will come from rising prices, supply chain challenges and global geopolitical tensions. Nonetheless, consensus forecasts suggest that annual growth for 2022 will be healthily in the 4-5% range.
On a quarterly basis, UK GDP should finally get back above its pre-COVID level in Q1 2022, after remaining 0.4% shy in Q4 2021. Sectors driving logistics property demand have already recovered to well above pre-pandemic levels. In Q4 2021, output in the warehousing sector was 5.4% higher than in Q4 2019, while postal and courier activities output was 15.6% higher, despite easing down from lockdown peaks.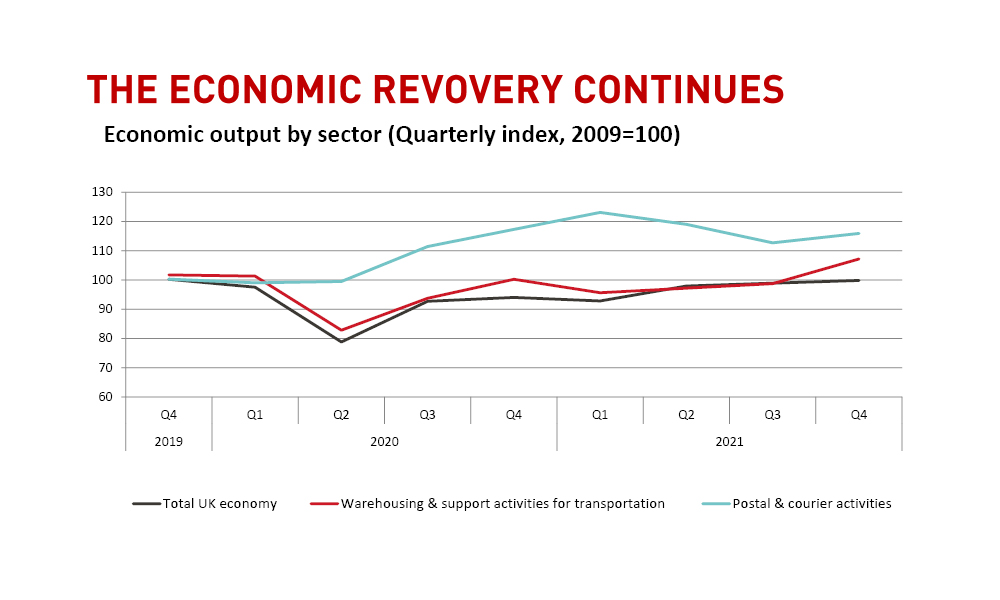 PRICES GO UP, UP, UP
The rising cost of living has become a growing concern in recent months, with CPI inflation reaching 5.5% in January, its highest level since March 1992. A further steep rise in inflation is expected in April, when household fuel bills will be impacted by a 54% increase in the Ofgem energy price cap. Capital Economics forecasts that inflation will peak at close to 8% in April.
The conflict in Ukraine is creating additional inflationary pressures, primarily through its impact on oil and natural gas prices, and it may cause inflation to fall back from its April peak more slowly than previously expected. If oil prices were to rise to $120-130 per barrel, for example, this could effectively add up to two percentage points to inflation.
While recent headlines have focused on the impact of high inflation on households, rising costs are a broad trend also impacting stakeholders across the industrial and logistics sector. Increases in rents, wages, construction, transport and manufacturing costs are variously affecting occupiers, developers and landlords.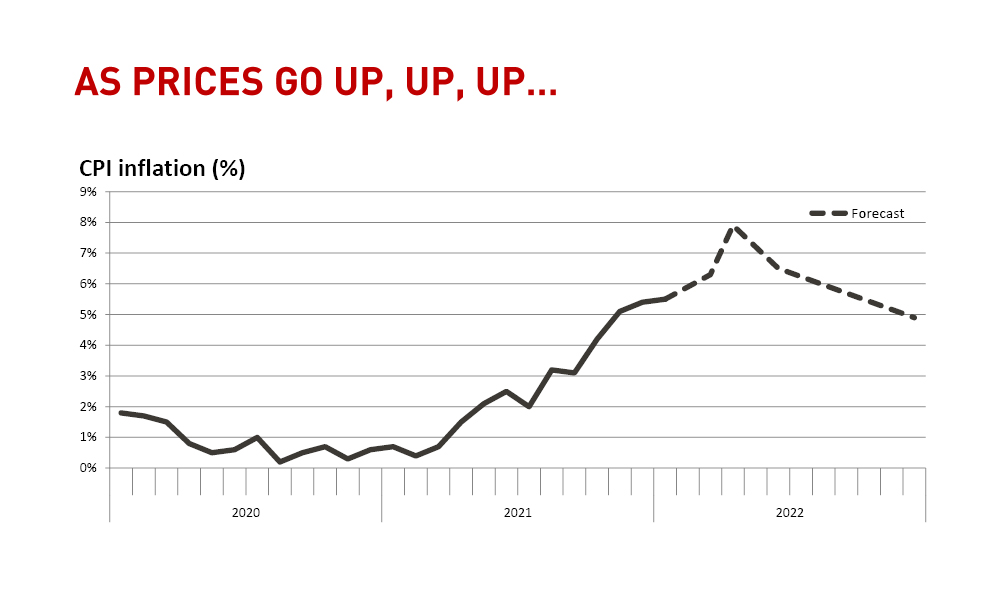 SUPPLY & LABOUR SHORTAGES
Product and labour shortages have added to price pressures over the last year. However, there are tentative signs that the peak of the global supply chain crisis may have passed, with manufacturers responding to PMI surveys reporting fewer shortages and delays in recent months. That said, new supply shortages could by created by the Russia-Ukraine conflict, as both countries are leading exporters of commodities, oil and gas.
Labour shortages show no signs of easing any time soon. The labour market is extremely tight, with unemployment dropping to 4.1% in January; back close to its pre-pandemic level. Job vacancies have reached all-time highs; and redundancy rates have fallen to record lows.
The logistics sector has been heavily impacted by labour market shortages. ONS data shows that there were 63,000 transport and storage job vacancies in the three months to January 2022, 142% more than a year earlier.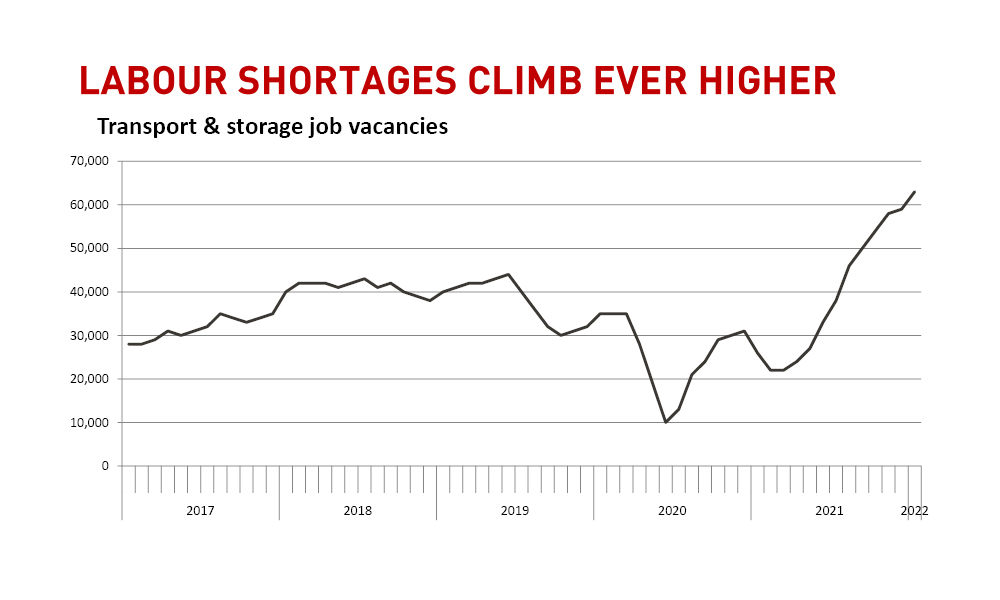 LOGISTICS LABOUR CHALLENGES
The shortage of HGV drivers has been particular focus of media attention over the last year, with an already ageing workforce being further depleted by a post-Brexit reduction in the number of EU drivers, on top of disruption caused by the pandemic and the lack of young entrants to the occupation.
According to Logistics UK, the number of HGV drivers in employment fell by 49,000 between Q4 2019 to Q4 2021, making the workforce 15.6% smaller than it was before the pandemic. While a sharp rise in the number of HGV vocational tests undertaken in Q4 indicates that some progress is being made in attracting new entrants, the recruitment of drivers remains very challenging.
Other logistics roles are also subject to labour shortages, albeit these are less acute for lower-skilled jobs, where it is easier to recruit workers from other sectors. Nonetheless, employers have had to increase wages across the board in order to attract and retain and staff. Logistics UK reports that there was a significant escalation in warehouse pay in the run up to Christmas last year.
ONLINE RETAIL TO RISE AGAIN
Internet sales soared during the pandemic, with online sales as a proportion of all retailing hitting a peak of 36.5% at the height of lockdown in February 2021. Online retail's market share has since been on a broad downward trend, falling to 25.3% in January 2022, but this is still comfortably above the pre-pandemic level of 19.8% in February 2020.
Online retail volumes could ease further in the short term, as town and city centre activity is boosted by increased office working. Nonetheless, the pandemic has clearly accelerated consumers' adoption of ecommerce and an upward trend is likely to resume before long.
Research by Retail Economics suggests that 27.3% of UK consumers are 'digital shifters' who will make a permanent move to shopping more online. Their forecasts, which are at the upper end of current expectations, suggest that the proportion of non-food sales made online will rise from an estimated 37.0% in 2021 to 49.7% in 2025.
However, a potential disruption to the online retail sector comes from the government's recent announcement of an early-stage consultation, running between February and May 2022, on an online sales tax. The potential tax would be aimed at levelling the playing field between online and physical retailers, with tax revenues being used to fund a reduction in business rates for shops.
MOVING FORWARD
The risks to the economy stemming from the pandemic appear to be receding, but new challenges have emerged that will impact activity in the year ahead. The rising costs of living and doing business will put a squeeze on households and companies; while labour shortages will continue to constrain output. Meanwhile, heightened global geopolitical tensions have added an unexpected and unwanted layer of uncertainty to the outlook.
Nonetheless, the ending of COVID restrictions should underpin a healthy economic recovery in 2022; and the fundamentals underpinning the growth of the industrial and logistics sector remain strong.
MARKET Insight
Industrial & Logistics Market 2022
Get the full version of our market leading report.
Download PDF